Peterik/Scherer | Risk Everything
by Alexandra Mrozowska
– Senior Columnist —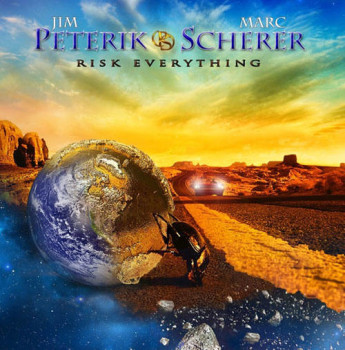 Apart from his songwriting brilliance and being the driving force behind Survivor and The Ides Of March, Jim Peterik also developed what could be called a "radar" for the first-league Rock vocalists. From Dave Bickler and Jimi Jamison (both of Survivor) to Pride Of Lions' Toby Hitchcock, he always collaborated with relatively unknown at the time, but brilliant singers able to convey the beauty and charm of his melodies with their voices. His most recent collaboration of this kind is with Marc Scherer, an American singer-songwriter who returned to music at middle age, after years of successful career as a… jeweler. The first album released by the powerhouse duo is out in April 2015 via Frontiers Records, entitled Risk Everything. And it's the one that is certainly worth the eponymous risk.
From the first crystal clean guitar tones in "Risk Everything" to the autobiographical undertones of brilliant storytelling and ultra-melodic grandeur of "Independence Day," Peterik/Scherer release is everything Melodic Hard Rock fan could have asked for. The music fittingly illustrates the stories told in Marc Scherer's clean-cut voice, all embroidered with flawless vocal harmonies. And even though the wall-of-sound effect is an ongoing tendency now among the contemporary AOR/Melodic Rock acts, what this album brings with itself is a neat selectivity to the particular instrumental parts, the sound being cohesive but transparent. But what perhaps strikes here the most is the fact Jim Peterik still hasn't run out of ideas for melody lines that are catchy but tasteful and simply captivating – and Risk Everything makes you doubt he ever ends up doing so.
Plenty of tracks on the album are kept at a mid-tempo groove, '80s infused keyboard sound upfront and juxtaposed with rich lead guitar work ("Chance Of A Lifetime," "The Dying Of The Light," "Cold Blooded," "Brand New Heart"). There's also a handful of charming, heart-tugging ballads ("How Long Is A Moment,, "Broken Home") sandwiched in between. "Desperate In Love" is the one to combine both of those musical flavors, its first part ballad-esque only to morph smoothly into an AOR Melodic mid-tempo further on. There's a certain theatrical panache and some slightly progressive tints to "Thee Crescendo" that brings to mind all those classic Styx albums, Paradise Theater most of all. Albeit somewhat tempered by tinkly keyboards, the distinct, thumping rhythm of "Milestones" vaguely reflects the power of the classic "Eye Of The Tiger." One brilliant song after another, there's hardly a highlight to be picked among the eleven songs on Risk Everything – each of them equally convincing.
Risk Everything is yet another jewel in Jim Peterik's crown – an artist and songwriter that doesn't need more recognition or acclaim, but the one who still can surprise a listener with quite a few melodic aces up his sleeve. And simultaneously, an album that put the relatively little known Marc Scherer in the same league as the mentioned singers Peterik's previously collaborated with – Toby Hitchcock, Dave Bickler and the late, great Jimi Jamison. Apart from perfectly crafted melodies, it's Scherer's range and clear vocal tone that are the biggest assets to the eleven songs on the record. Therefore, let's only hope – on behalf of all Melodic Rock aficionados out there – it's only the first of many albums released under Peterik/Scherer moniker. Highly recommended.
Genre: Melodic Hard Rock, AOR
Band:
Marc Scherer – lead vocals
Ed Breckenfeld – drums
Nick Rich – drums
Klem Hayes – bass guitar
Bob Lizik – bass guitar
Bill Syniar – bass guitar
Mike Aquino – guitars
Jim Peterik – guitars, keyboards
Track List:
1. Risk Everything
2. Chance Of A Lifetime
3. Cold Blooded
4. Desperate In Love
5. Thee Crescendo
6. The Dying of The Light
7. How Long Is A Moment
8. Brand New Heart
9. Broken Home
10. Milestones
11. Your Independence Day
Label: Frontiers Records
Website: http://jimpeterik.com/ – https://www.facebook.com/marc.scherer.716?
Hardrock Haven rating: 9.5/10