Swords of Steel Anthology
by John Kindred
– Publisher —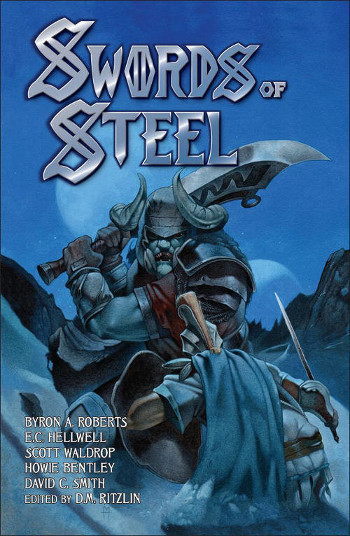 Sword of Steel is the first publication by DNR Books. The 254-page anthology is a collection of fantasy and horror adventure stories in the tradition of writers such as Robert E. Howard, Michael Moorcock, George R.R. Martin and H.P. Lovecraft.
DMR Books editor and publisher D.M. Ritzlin came up with the idea of the anthology series by listening to Manowar's "Dark Avenger." "I thought the lyrics would make a great story that could have been in an anthology from the '70s, like Swords Against Darkness. Then I wondered if any bands had ever written stories, and the idea took off from there." — D.M. Ritzlin
Swords of Steel is an anthology of 11 short stories and poems gathered into one paperback volume written by Heavy Metal musicians. The authors include musicians from Manilla Road, Bal-Sagoth, Cauldron Born, Twisted Tower Dire, Solstice, Borrowed Time, Eternal Champion and Gatekeeper. The stories range from fantasy, horror and adventure.
The book is graced by author David C. Smith (Oron, The Sorcerer's Shadow, and the Red Sonja series), providing the introduction to the anthology. Smith is best known for his collaborations with Richard L. Tierney on the six novels in the Red Sonja series that were published in the early '80s. His six-page introduction sets the tone for the 11 chapters that follow it by defining the precise precepts that the Sword and Sorcery, Heroic Fantasy and Weird Adventure fictional genres fulfill in the hearts of fans.
Swords of Steel features illustrations and maps, poems by Sean Weingartner "Dream Death" and Howie Bentley's "Stygian Dusk and Black Lotus Slumber." Martin Hanford, known for his work illustrating Warhammer novels and album covers for bands such as Twisted Tower Dire, Bal-Sagoth and Slough Feg, provides the cover artwork. M Harold Page pens a nonfiction essay titled "Headbanging Warriors." And Howie K. Bentley and David C. Smith offer up their joint adventure, "All Will Be Righted on Samhain."
DMR Books has hit on a great idea of allowing musicians to take lyrical themes and expand theme into fleshed out stories. With the backbone of many bands' lyrics and visual persona falling in the lands of Fantasy, Horror and Swords and Sorcery, it is just a small stepping stone for musicians to move from song to written stories and, maybe, taking the next leap to novels.
DMR Books plans to follow up Swords of Steel with an annual release, with stories falling into these fictional genres.
Table of Contents:
"Introduction" by David C. Smith
"Into the Dawn of Storms" by Byron A. Roberts
"The Riddle Master" by E.C. Hellwell
"The Mirror Beguiling" by James Ashbey
"Dream Death" (poem) by Sean Weingartner
"All Will Be Righted on Samhain" by Howie K. Bentley and David C. Smith
"Headbanging Warriors" (nonfiction essay) by M Harold Page
"Journey In Somnamblia" by Jean-Pierre Abboud
"Eve's Grave" by Scott Waldrop
"Stygian Dusk and Black Lotus Slumber" (prose poem) by Howie K. Bentley
"Blue Mistress" by Jeffrey Black
"Vengeance of the Insane God" by Jason Tarpey
Series: Swords of Steel Volume I
Language: English
ISBN-10: 0990990001
ISBN-13: 978-0990990000
About DMR Books:
DMR Books publishes Fantasy, Horror and Adventure fiction in the traditions of Robert E. Howard, H.P. Lovecraft and other classic writers of the Pulp era. DMR Books exclusively publishes mass-market size (6.5″ x 4.25″) paperbacks.