by Alexandra Mrozowska
– Senior Columnist —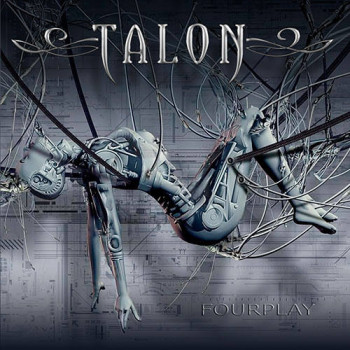 Talon's new single "Holly Would" is illustrated with a sexually charged music video that shows a couple of ladies gyrating suggestively in various stages of undress. While watching it, you can't escape the impression that what's been learned from Tawny Kitaen back in the day, hasn't been lost throughout the decades – it's the same eye candy factor that is utilized here (sans two Jaguars and feather-haired incarnation of David Coverdale). But more important is the fact that the single foreruns Talon's comeback with what is their fourth album and a follow-up to critically acclaimed III. Released via Escape Music, it's entitled Fourplay and features guest appearances by guitarists Tim Pierce (Bruce Springsteen, Bon Jovi, Alice Cooper, Elton John etc.) and Pete Fry (FarCry, Rockarma).
Much unlike their younger peers Reckless Love, H.E.A.T or Brother Firetribe attempting to recreate the '80s Melodic Hard Rock sound in the 2010s, the musicians united under the moniker of Talon have pretty much experienced it themselves. Michael O'Mara has been around since VFX's debut in 1988, while the band's actual roots reach back to the Hard Rock outfit Voxen active in the mid-'90s. Perhaps that's what differentiates them from the diligent youngsters emulating the genre. That's also a good reason why Fourplay sounds as if it was a shelved-and-forgotten '80s rock release, now unearthed by some nostalgia-driven, big-haired archeologist.
Mentioned O'Mara is brought here on board a series of changes behind the mic, his high-pitched, vibrant vocals still fitting the band's trademark Melodic Hard Rock style like a proverbial glove. However, as it was said before, the band's sound is hardly susceptible to evolution on their fourth album. Instead, it ticks all the boxes for what's been infamously dubbed hair metal … literally all of them! The upbeat, hook-centric song structures …? There's hardly a song on Fourplay that is not about the hook. Big choruses laden with vocal harmony…? "It's A Fine Line Between Love And Lust," for example. If keyboard-driven Pomp Rock/AOR is what you're looking for, you'll be satisfied with "Evil." But if it's rather about a little bit of gritty Sleaze Metal licks and the heavier side of things, go for "Holly Would" or "Hole In My Head."
"Set Me Free" is that powerful group chant opening that was simply obligatory here, but don't forget about "Tonight" – part ballad, part powerful synth-laden mid-tempo. And as far as lyrical clichés are concerned, there had to be at least one ditty centered around the figure of the ultimate femme fatale ("Sin City Sister"). And of course, an anthem-like rocker with a bit of self-empowerment vibe to it – "There Ain't Nothin' In The World Like The Rockin' Band." Nothing like one indeed, one feels almost obliged to conclude as Fourplay slowly fades – certainly a guilty pleasure for the '80s Melodic Rock aficionado.
After many a line-up change, Talon is back with an album that is simply up to their standards. A bit too formulaic, and a bit too predictable, one may say – but there's hardly a novelty within a genre that's been already thoroughly explored over three decades ago. Fourplay is obviously no novelty too, but a solid '80s-infused record that would have been a smash twenty five years ago. And also, the one you're going to blast in your car and even sing along to it… inevitably! Perhaps some of you are going to keep it hidden from view of your sublime Prog Rock-oriented colleagues, but the others will feel proud of their '80s Pomp Rock fan finally coming out. And no, it's not about nostalgia factor; it's about big choruses, slick guitar work, strong vocal harmonies and almost infectious melodies. It's about all things we seemingly can't still get enough of – what Talon and their counterparts kindly remind us of, one album after another.
Genre: Melodic Hard Rock
Band:
Michael O'Mara – lead and backing vocals
Kory Voxen – rhythm and lead guitar, acoustic guitar
Jim Kee – lead and rhythm guitar
Phil Keller – bass guitar
John Parker – drums
Additional musicians:
Tim Pierce – lead and harmony guitars in [1] and [5]
Pete Fry lead guitar in [9]
Track List:
1. Spun
2. Sin City Sister
3. Holly Would
4. Set Me Free
5. Tonight
6. It's A Fine Line Between Love And Lust
7. Evil
8. I Don't Wanna Cry
9. Love Is Like A Drug To Me
10. Raise 'Em High
11. Hole In My Head
12. There Ain't Nothin' In The World Like A Rockin' Band
Label: Escape Music
Website: https://www.facebook.com/pages/Talon-Official/
Hardrock Haven rating: 8.5/10