by Justin Gaines
– Senior Columnist —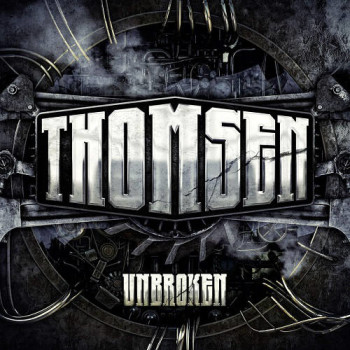 It's been five years since the release of Thomsen's debut album Let's Get Ruthless, but guitarist/band leader Rene Thomsen finally returned late last year with a follow-up album, titled Unbroken. It's an album – and a band – that slipped under the radar, but also one that is going to satisfy fans of powerful, old school heavy metal.
If you're unfamiliar with Thomsen's previous work, the band's sound draws heavily from classic heavy metal bands, particularly Accept, Saxon and Dio. Blazing lead guitars, wicked solos and thundering rhythms dominate, but are balanced by fantastic melodies like you'd expect from a power metal album. Thomsen put together some very strong songs for Unbroken that capture the classic metal era without sounding like cheap imitation.
Thomsen and his band (which now features Iron Fate vocalist Denis Brosowski) are joined this time around by a host of guest musicians, including Fair Warning guitarist Helge Engelke, who produced the album. Other guests include drummers Vinny Appice (Black Sabbath, Dio), Bobby Jarzombek (Halford, Fates Warning) and Andre Hilgers (Rage), U.D.O. guitarist Mathias Dieth, Morbid Angel bassist David Vincent and none other than U.D.O./ex-Accept frontman Udo Dirkschneider, who lends his instantly recognizable voice to the song "We Made It."
Normally a list of guest stars like that could make an album, but it's a tribute to just how well written and executed these songs are that Unbroken is so strong even without them. Songs like "New Horizon," "Fools of Fortune" and especially the monster title track are everything classic heavy metal should sound like.
Hopefully it won't take another five years for a follow-up album, because Thomsen is really on to something here. Unbroken is one of the strongest traditional heavy metal albums 2014 had to offer, and is a must-have for fans of Accept, U.D.O., Saxon, Dio and the like. Get your hands on this one, turn it up and bang your head!
Genre: Heavy Metal
Band:
Rene Thomsen (g)
Denis Brosowski (v)
Robert Soeterboek (v)
Ingo Luhring (b)
Michael Pesin (g)
Max Dietzmann (d)
Track Listing:
1. Draw the Curtains
2. In Steel We Trust
3. New Horizon
4. Break the Spell
5. Dream
6. Fools of Fortune
7. Into the Unknown
8. Unbroken
9. Six Thirteen 64
10. We Made It
11. One
12. Tears of the Sun (live)
Label: Artist Station
Website: www.thomsen-unbroken.de
Hardrock Haven rating: 8.5/10