Blackwelder | Survival of the Fittest
by Justin Gaines
– Senior Columnist/News Editor —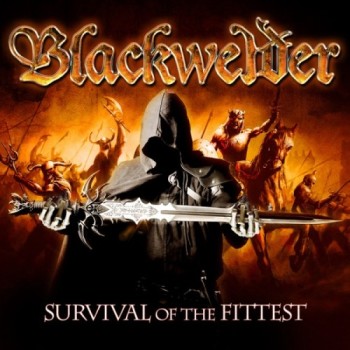 While the new super-group Level 10 is getting a fair bit of attention, there's another "all-star" project featuring Primal Fear members that is worth noting. Blackwelder is the brainchild of American guitarist Andrew Szucs (formerly of Seven Seraphim), and features none other than Primal Fear vocalist Ralf Scheepers. Blackwelder also includes current Primal Fear (and former Angra) drummer Aquiles Priester and Dio Disciples/ex-Yngwie Malmsteen bassist Bjorn Englen. The band's debut album, titled Survival of the Fittest, was mixed by Theocracy's Matt Smith.
Given the players involved, you have a pretty good idea what's in store on the Blackwelder debut. Survival of the Fittest is undeniably a Heavy Metal album, and it's one that has elements of Progressive, Power and Neoclassical metal. Szucs brings a high degree of technicality to these songs, and his soloing in particular is jaw-dropping. And of course Priester brings his own impressive technique to the band. Musically, Blackwelder has elements in common with Balance of Power, Pyramaze and especially Yngwie Malmsteen. It's when Ralf Scheepers's instantly recognizable vocals come in that you start thinking power metal. He brings tremendous power and an additional level of melody to these songs. It's his presence that really elevates this album to "must hear" status.
High points on Survival of the Fittest include leadoff track "Night of New Moon," "Remember the Time" and closer "Judgment Day," which probably comes closest of all these songs to a Primal Fear sound. The instrumental "Adeturi" is also pretty remarkable from a purely technical standpoint.
If you're a fan of any of the players involved, you're going to want to hear this. Blackwelder may not be breaking any new ground, but it's always good to hear first-rate musicians paired with a vocalist of Scheepers's caliber. And hey, if you ever wondered what an Yngwie Malmsteen album might sound like with Ralf Scheepers on vocals, Survival of the Fittest is about as close as you're going to get!
Genre: Heavy Metal, Progressive Metal, Neoclassical Metal
Band:
Ralf Scheepers (v)
Andrew Szucs (g)
Bjorn Englen (b)
Aquiles Priester (d)
Track Listing:
1. The Night of New Moon
2. Spaceman
3. Adeturi
4. Freeway of Life
5. Inner Voice
6. With Flying Colors
7. Remember the Time
8. Play Some More
9. Oriental Spell
10. Judgment Day
Label: GoldenCore, ZYX
Website: www.facebook.com/blackweldermetal
Hardrock Haven rating: 7.5/10