Damnation Angels | The Valiant Fire
by Justin Gaines
– Senior Columnist/News Editor —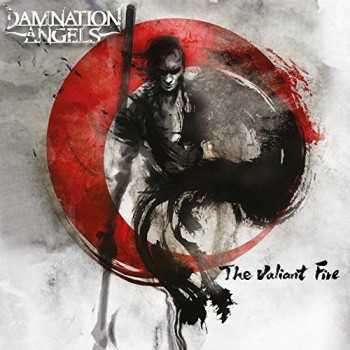 (Mostly) UK-based symphonic/power metal band Damnation Angels is back with a new album, their second overall, titled The Valiant Fire. It's the highly-anticipated follow-up to their breakthrough 2013 debut full-length Bringer of Light, and on it the Graney brothers and vocalist Per Fredrik "Pellek"Asly have taken just about everything to the next level.
As you might expect after the grandeur of Bringer of Light, The Valiant Fire is, in a word, epic. The orchestrations in particular are massive, swirling around the guitars and drums to create a majestic atmosphere throughout the album. It's a consistent atmosphere too, almost giving The Valiant Fire a concept album feel, even though the songs are independent of each other. The atmosphere connects them all, and makes this album that much more rewarding when taken as a whole listening experience. The melodies are a little more subtle this time around, but still play a large part in the album's overall sound. And of course there's the vocal performance. Pellek is one of the brightest young stars in the genre, and being in Damnation Angels seems to bring out his best performances. The power, range and emotion he conveys is what makes these songs resonate so much.
Unlike Bringer of Light, which immediately drew you in with huge melodies, The Valiant Fire is going to take a few spins to really sink in. When it does though, it simply won't let you go. That's not to say there aren't incredible melodies and hooks. They just seem dialed back in comparison to the debut. You're still going to be headbanging and singing along with the catchy "This Is Who We Are" and "Everlasting." Oddly enough, the most bombastic song on the album is the instrumental title track. It makes a statement, but you can't help but wish Pellek was there doubling the impact of such strong melodies. The album boasts a pair of nine-minute epics – "The Frontiersman" and "Under An Ancient Sun" – that are very different from each other but equally memorable. Honestly, all nine of the songs on The Valiant Fire are sensational, and there isn't a weak moment anywhere on the album.
New releases from Nightwish and Kamelot will – deservedly – garner the lion's share of attention from the Symphonic Metal community, but The Valiant Fire has to be considered one of the best – if not the best – entry in that genre in 2015. Even stepping away from genre tags, this is just one of the best albums you'll hear all year if you like your metal grand, powerful and epic. If you haven't yet experienced Damnation Angels, now is the perfect time to discover one of the most exciting bands in recent years.
Genre: Symphonic Metal, Power Metal
Band:
William Graney (g) (b) (k) (v)
Per Fredrik "Pellek" Asly (v)
John Graney (d)
Track Listing:
1. Finding Requiem
2. Icarus Syndrome
3. This Is Who We Are
4. The Frontiersman
5. Closure
6. The Passing
7. Everlasting
8. The Fire Inside
9. Under An Ancient Sun
Label: Massacre Records
Website: www.facebook.com/damnationangels
Hardrock Haven rating: 9.25/10