Eden's Curse | Live With the Curse
by Justin Gaines
– Senior Columnist/News Editor —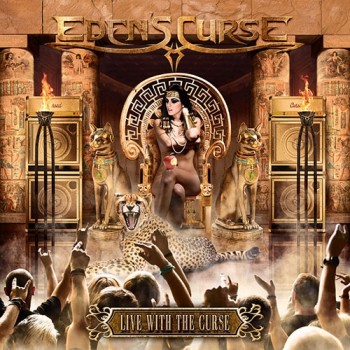 Multi-national melodic metal band Eden's Curse delivered their first ever live album this year with the two-disc Live With the Curse. Live albums seem a bit passé in the DVD/Blu-ray age, but given the buzz this band has generated with the addition of vocalist Nikola Mijic as well as the touring they did to support their latest studio album (2013's Symphony of Sin), a live album makes sense. It doesn't hurt that this further solidifies the Eden's Curse brand while their former singer is fielding his own Eden's Curse act here in the States, but that's another story entirely.
Live With the Curse was recorded in Glasgow in November, 2014, where the band played a career-spanning 18-song set. As you might expect, Symphony of Sin was heavily represented, though they definitely hit the key material from Eden's Curse, The Second Coming and Trinity as well. The band was in top form and seemed to have a good energy during the performance. Likewise the crowd seemed very into the show.
Obviously a main point of interest is Mijic's vocal performance, since he had to take on songs from before his time in the band. While he sounded best on the Symphony of Sin material, he delivered a solid enough performance on the older songs, even if it did seem to take him a while to get comfortable with them. By the second disc though, it felt more natural, especially on songs like "No Holy Man" and "Judgement Day."
It's probably not going to win over anyone who didn't already enjoy Symphony of Sin, but Live With the Curse is a very solid live album, and a worthy addition to the Eden's Curse discography. An accompanying DVD still would have been preferable, but If you're a committed Eden's Curse fan, this set is well worth picking up.
Genre: Heavy Metal, Melodic Metal
Band:
Nikola Mijic (v)
Thorsten Koehne (g)
Paul Logue (b) (v)
Steve Williams (k) (v)
John Clelland (d)
Track Listing:
Disc 1
1. Symphony of Sin
2. Break the Silence
3. Masquerade Ball
4. Black Widow
5. Trinity
6. Fly Away
7. Just Like Judas
8. Fallen From Grace
9. Jerusalem Sleeps
10. Guitar Solo
11. Time To Breathe
Disc 2
1. Rock Bottom
2. Devil in Disguise
3. Wings to Fly
4. No Holy Man
5. Unbreakable
6. Judgment Day
7. Band Introductions
8. Evil & Divine
9. Angels & Demons
Label: AFM Records
Website: www.edenscurse.com
Hardrock Haven Rating: 7.5/10