Enertia | Victim of Thought
by Justin Gaines
– Senior Columnist/News Editor —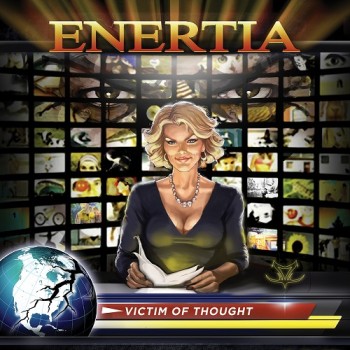 For the latest installment in their Bootcamp series, which spotlights overlooked bands with only demo or self-released material, the Divebomb label has set its sights on Enertia, an overlooked American band that emerged in the mid 1990s as the progressive and power metal scenes were taking off.
Always more thrash-minded than their peers, Enertia's heavier sound was closer to bands like Iced Earth and Nevermore than the multitude of Dream Theater disciples. There was a technical aspect to their music, and it is undeniably powerful, but there's a heavy crunch to the guitars and of Scott Featherstone's rougher, raspier vocals put Enertia on a more aggressive footing.
Divebomb's 2015 collection, titled Victim of Thought, collects all of Enertia's '90s material in one deluxe two-disc set. The first disc contains the band's full 1999 album Flashpoint as well as two bonus tracks – "Invisible" and a very well-executed cover of Pantera's "Cowboys From Hell" that originally appeared on the Southern Death tribute album. Disc two contains the full 1997 album Momentum as well as the band's 1996 debut EP Law of Three. All of the songs have been newly mastered, which makes a big difference.
Victim of Thought also includes a deluxe booklet loaded with lyrics, vintage photos and a new interview with Enertia bassist Joe Paciolla. Like all Bootcamp titles, it is limited to 500 copies and is not available digitally.
This may be one of those "wrong place, wrong time" cases. Had they emerged a decade earlier they'd have fit perfectly alongside power/thrash bands like Sanctuary and Vicious Rumors. Had they emerged a decade later they'd have caught the thrash revival wave. Instead, and despite heavy touring and respectable sales for an independent band, Enertia was never able to break through to a wider audience. With this deluxe set though, fans of high quality heavy/power/thrash metal can correct that oversight. If you expect your metal to have speed, heaviness and real power, Enertia is a band that's well worth discovering.
Genre: Heavy Metal, Thrash Metal
Band:
Scott Featherstone (v)
Roman Singleton (g)
Jeff Daley (d)
Dave Stafford (g)
Joe Paciolla (b) (v)
Track Listing:
Disc 1
1. Victim of Thought
2. Leave Me In Peace
3. Glitch
4. Crawling
5. Real
6. D.O.M.
7. Voices
8. Without End
9. What Hurts Me…
10. Right To Die
11. Invisible
12. Cowboys From Hell
Disc 2
1. Ripped Out
2. Dear God
3. And So You Fall
4. Six Weeks
5. Weight of the World
6. You Know
7. Sever the Wicked
8. Walls
9. The Mirror
10. Child Now Lost
11. I Know Your Demons
12. Same Old Story
13. If I Were You
Label: Divebomb Records
Website: www.facebook.com/realenertia
Hardrock Haven Rating: 8/10