by Don Higgins
– Columnist —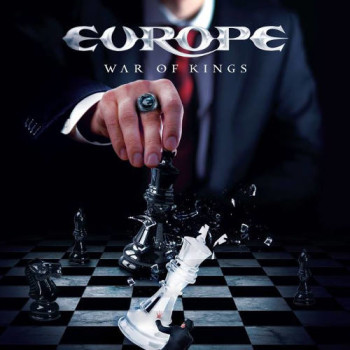 Europe, one of Sweden's biggest rock groups, are back with their tenth hard-hitting album titled War of Kings. An aptly titled release because these guys are performing at their peak and taking no prisoners. This is a heavy, rocking album that continues the momentum they have created their last few albums. They sound contemporary, yet clearly reflect their influences, sitting much more comfortably in the 1970's hard rock category as opposed to '80s Big Hair Metal.
Europe are most famous for their hugely successful, multi-platinum 1986 album The Final Countdown. That year, Europe were all over radio and MTV. It was easier to hear a song from that album than it was to find a mullet. What many people may not realize is that album was actually the bands third album. What they may also not realize is that Europe have been actively recording over the last few years with this being their fifth album since 2004. That's a pretty admirable output from a band that's been around for 30 years. Also impressive is that for the vast majority of those years, the band has consisted of the same five guys.
So what does the band sound like after so many years and albums? Very good indeed! This is a band that still cares about their music and they have crafted an album proving that they are veteran rockers who still play with the energy and hunger of a young band just starting out. Joey Tempest's vocals are as strong as ever, sometimes sounding a bit like Ronnie James Dio in his delivery. John Norum's guitar playing is top notch and goes from bluesy to hard rocking with many great solos along the way. John Leven's bass is very much represented in the mix as is the impressive drumming of Ian Haugland. Mic Michaeli's keyboards are nowhere near as overpowering as they were on their big '80s albums, but works quite well adding texture and creating the hard-rocking 70's vibe that flows through this release. You can definitely hear a Deep Purple influence in several songs.
The album kicks off in fine form with the title track. It's heavy, rocking, menacing and uses some echo on Joey's voice, yet it doesn't diminish just how good this guy can still sing. You can hear the seventies classic rock influence, yet the track sounds modern thanks to producer Dave Cobb. It's a good start to the album and one of the best songs offered.
The album continues in high fashion with the up-tempo rocker "Hole In My Pocket." This is the fastest rocking song on the album and another one of the highlights. The chorus states: "Hole in my pocket, Stone in my shoe, Time keeps on winning, What can you do?" With songs this good, the guys from Sweden are definitely doing an admirable job at fighting the hands of time.
The next several songs are more mid-tempo and are quite interesting. "The Second Day" starts out sounding almost Doors-like but morphs throughout the song and features a great Norum guitar solo. "Praise You" is a bluesy rocker very much in a Zeppelin vibe. "Nothin To Ya" is a groovy rocker where the drums and bass are up-front to great effect. "California 405" is another stand-out track that starts with the organ (think Deep Purple again) and drums, then a crunchy guitar riff follows. Joey's vocals and all band members are well represented and well placed in the mix which is typical of the album.
The second half of the album begins with "Days of Rock n Roll" which is a melodic rocker that's reminiscent of classic Whitesnake. This is just a good, solid rock and roll song. Next comes another stand-out track titled "Children of the Mind". This is another interesting song which starts out slow, has some heavy bass and then Joey comes in with a scream and it really starts rocking at the chorus. And like some of the other great songs on here, it changes pace throughout and each band member gets to step up and shine. John has an amazing solo midway through that itself, is worth the price of admission. Things get even more interesting on the next track, "Rainbow Bridge". It's a modern rocker that somehow sounds a bit like a mix of Stone Temple Pilots with some Middle-Eastern spices added to the brew. It's an unusual mix yet works very well.
The album mixes things up to keep the listener engaged. This continues towards the end of the album as well. The tenth song, "Angles (with Broken Hearts)" is the only real ballad on the album. But don't think "Carrie" from The Final Countdown, or "Tomorrow" from Out of This World. This is a slow bluesy song that shows Joey can sing with soul and is more in keeping with Europe's more recent albums. "Light Me Up" is the last rocker on the album and starts with a cool drum pattern and kicks into high gear with the rest of the band. It's another cool track that features a nice, long instrumental break with a passionate Norum guitar solo. The album ends with another unique song titled "Vasastan." It's an instrumental song that wouldn't sound out of place on a Pink Floyd album. It's a great song that shows the impressive talents and abilities of a well seasoned band who know what they're doing. It's a nice way to end the album. The fade-in at the end of the song is a pretty cool touch to finish up the album.
Overall this is a very satisfying, impressive album by a legendary band. No, this doesn't sound like the albums that they recorded in the eighties that made them international superstars, but it's not supposed to. It sounds more like many of their other strong albums where they wear their influences on their sleeves and yet remain contemporary. This album is essential for any long-time Europe fans but also fans of good, classic hard rock. For people who pine for the days when the biggest rockers of the day went by the names of Whitesnake, Sabbath, UFO, Zeppelin, Rainbow, Thin Lizzy and the like then you will like this release. To dispute those who say, "Bands just don't make good rock music like they used to"… well, some bands do. And this album is proof.
Genre: Hard Rock
Band Members:
Joey Tempest – vocals
John Norum – guitars
John Leven – bass
Ian Haugland – drums
Mic Michaeli – keyboards
Track Listing:
01. War of Kings
02. Hole in My Pocket
03. Second Day
04. Praise You
05. Nothin' to Ya
06. California 405
07. Days of Rock N Roll
08. Children of the Mind
09. Rainbow Bridge
10. Angels (With Broken Hearts)
11. Light It Up
12. Vasastan (Instrumental)
Labels: UDR Music, JVC, VICTOR (JAPAN)
Hardrock Haven Rating: 9.1/10