by Alexandra Mrozowska
– Senior Columnist —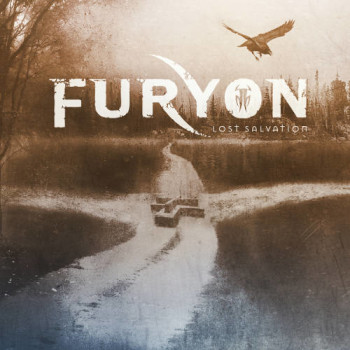 With their debut effort Gravitas released independently in 2010 to the multitude of rave write-ups and Frontiers Records re-releasing it two years later, the U.K. outfit Furyon has become an overnight sensation of sorts. It's quite a challenge to deliver a decent follow-up to what's been praised so eagerly by reviewers worldwide. That's why it's twice as interesting to take a closer look upon the band's sophomore effort Lost Salvation released in February 2015 via Dream Records only to check if the album's one of these unfortunates case of the so-called sophomore slump… or is it not?
One thing has to be said loud and clear about the album – similarly to Gravitas, it portrays Furyon still being anything but a retro-oriented, nostalgia-driven act. From the pulsating, tense intro to thick lead guitar work, the opening track of Lost Salvation – "All That I Have" – is the one that screams 2015 all along the way rather than brings back the old worn-out schemes. The band's lead singer Matt Mitchell delivers here what is a very convincing performance too, lowering his voice within the atmospheric verses only to go for choruses embroidered with high-pitched vocal lines further on.
Even though there must have been a subtle Classic Rock/Metal influence exerted over the powerful choruses and dense riffs of "Lost Salvation," the track overall has even more of a modern vibe to it than its predecessor. Massive, lumbering riffs and the thumping rhythm section of "These Four Walls" are heavily contrasted with its melodic choruses that add a tint of radio-friendliness to it. With its slightly Sabbath-esque flavor, "Scapegoat" is perhaps the heaviest the band could possibly get without losing the melodic quality to their sound. "Resurrect Me" is the one that follows with a tad of the progressive and psychedelic twists to it, while "Left It With The Gods" is more about a well-crafted chorus than anything else. "Good Sky" stands out because of its lengthy instrumental intro and fast, powerful riffs, preceding the frequent changes of pace that characterize the eighth track on the album – "Dematerialize." Lost Salvation finishes with slow, lumbering "What You Need" and aggressively chanted, melodic "Wiseman" embellished with rich lead guitar work.
With the second album under their belt, the Brighton-based Furyon surely avoided what is infamously called a sophomore slump. However, the trick is that Lost Salvation will find its way mostly to the record collections of the modern Rock/Metal fans and perhaps those fond of grunge era. Those with more traditional and/or retro-oriented approach to their listening choices may find it not as digestible. A matter of personal taste aside, however, there are assets to the album that are simply undeniable – the musicians' instrumental prowess, interesting songwriting ideas, clean cut modern production… The band's new material proves beyond any doubt that with more right choices, more recording experience and perhaps a bit more variety to their catalog, the future ahead of Furyon is nothing but bright.
Genre: Modern Rock , Metal
Band:
Matt Mitchell – vocals
Alex Bowen – bass
Lee Farmery – drums
Luca Faraone – guitars
Tiago Rosado – guitars
Track List:
1. All That I Have
2. Lost Salvation
3. These Four Walls
4. Scapegoat
5. Resurrect Me
6. Left It With The Gods
7. Good Sky
8. Dematerialize
9. What You Need
10. Wiseman
Label: Dream Records, Cargo Records (UK/Europe)
Website: http://www.furyon.net – http://www.facebook.com/furyon
Hardrock Haven rating: 7/10