by Alexandra Mrozowska
– Senior Columnist —
When you catch up for a bit of interrogation with someone who still remains the untouchable master of songwriting and storytelling, you can be sure you're going to get all things covered – including the smallest of details! That's why Hardrock Haven asked Jim Peterik – one of the best songwriters in Melodic Rock, the man behind such giants of the genre as Survivor or Pride Of Lions – not only about his newly founded Peterik/Scherer project and their first album Risk Everything. The other topics we've covered were also his fascinating biography Through The Eye Of The Tiger and the Fergie Fredriksen and Jimi Jamison tribute album Torch. Our excellent interviewee also shared his thoughts on the recent performance on Frontiers Rock Festival in Milan, Italy.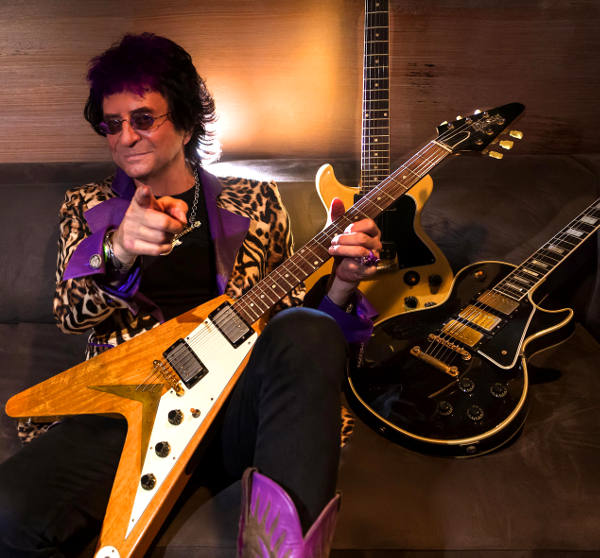 Hardrock Haven: Was the album Risk Everything more about pursuing your own vision, or perhaps a compromise?
Jim Peterik: As a songwriter I am inspired by great vocalists – someone who can put across a lyric with great passion and believability. The moment I heard Marc coming through my studio door working with my engineer and fellow Ides Of March member – Larry Millas – I knew I had to work with Marc.
Hardrock Haven: How did you hook up with Marc Scherer and what's inspired you guys to work together?
Jim Peterik: It's funny… Through the years I met him twice at two different studios. Once when I was recording with the Ides in the '70s and once in the '80s when I was recording with Survivor. Each time I heard this great voice coming from the next room I went there and got his phone number saying "Man, we gotta make some music!…" and then… I'd always lose his number (laughs). This time I made sure that did not happen. When he joined me and Pride Of Lions onstage in Milan, it was a real moment.
Hardrock Haven: What was Marc's influence over the album, the songwriting process in particular?
Jim Peterik: On the three songs we co-wrote, he brought his melodic gifts to the songs and also some great lyrics. The song "Broken Home" in particular, probably because he is living the story of his two young children and a divided household.
Hardrock Haven: What's prompted you to name the album Risk Everything and is the title song the most representative to the material you've recorded?
Jim Peterik: It is my favorite song on the record. I was risking my future on a totally unknown singer and hoping the world would accept him and the album I produced. Some things don't make logical sense but I knew the rewards would be worth the risk!
Hardrock Haven: What are your personal highlights of Risk Everything?
Jim Peterik: I love the anthem-ic chorus of the title track. I feel it is one of my strongest chorus's in my career. I also am a huge believer in "The Dying Of The Light"… not the most obvious track to be sure… but the message is one we can all relate to, trying to out-distance death… trying to hold the reaper at bay for just a little longer. Plus, I really am proud of the chorus melody.
Hardrock Haven: For me personally, it's "Your Independence Day" that is the most significant song on the album – perhaps because of the background I learned about while reading your biography. Could you please elaborate on it?
Jim Peterik: Yes – thank you Alexandra! One of my life songs. It's a song that had been building since 1996 when I finally had the courage to draw the line and leave Survivor. It was a pivotal day for me – July 4th, 1996 and one I will never forget. "So I parachuted out/From a dream about to crash." This says it all. I was finally able to wrap it all in one song. Marc did an incredible job of telling my story with great passion.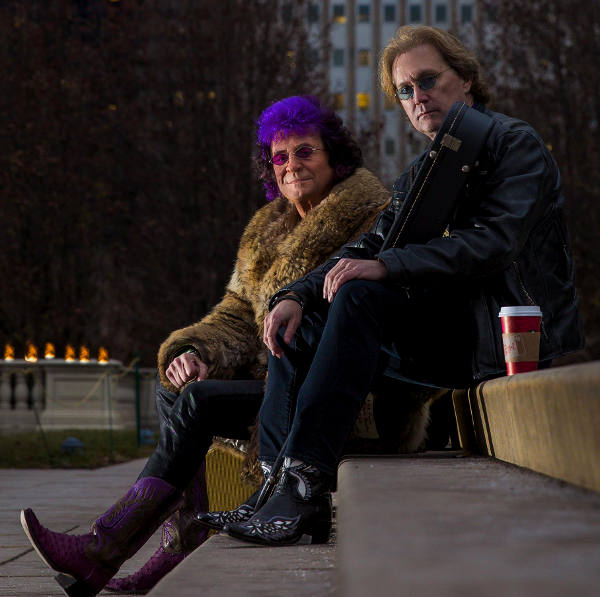 Hardrock Haven: Could you tell a bit more about the rest of the musicians who play in Peterik/Scherer project and whatever each of them has brought into it?
Jim Peterik: I have such an amazing ensemble of musicians… The core band is Eddie Breckenfeld on drums, Klem Hayes on bass, Mike Aquino on guitar… but to differentiate it a bit from the Pride Of Lions backing, on some tracks I used Nick Rich (Buddy Rich's grandson!) on drums, Bobby Lizik (Beach Boys-Brian Wilson) on bass. I did a fair amount of lead work also… like on "Cold Blooded". I also played more keyboards than usual.
Hardrock Haven: Do you plan Peterik/Scherer to continue, or is it just a one-off kind of thing?
Jim Peterik: Yes!… Serafino is already talking about a second album and we are pounding the pavement for shows. Right now Marc is a special guest in solo Peterik shows and Pride gigs.
Hardrock Haven: Just recently I read and reviewed your autobiography Through the Eye of the Tiger. It's pretty candid – weren't you afraid to reveal many details of your family life to the readers? Are you comfortable with such an exposure?
Jim Peterik: This is what make a book – and a life – real. I read so many autobiogs and if the writer just glosses over stuff, it's not nearly and engaging and real.
Hardrock Haven: The book was co-written with a journalist, Lisa Torem – nevertheless it's you who remain the sole "voice" of the story. Why?
Jim Peterik: Lisa was a great guide and editor as she took this journey with me. But I realized early on that I had to write this myself… no one else can talk in my voice.
Hardrock Haven: Could you please elaborate on the content of Torch, the tribute album recorded to commemorate Jimi Jamison and Fergie Fredriksen?
Jim Peterik: This was an album I felt I had to make. With the help of Jeremy Holiday we compiled a song trail of the best and most appropriate tracks from Jimi's and Fergie's Frontiers catalogs. Then I was inspired to write new material in honor of both artists. "You're in Our Hearts" was the first after Fergie's passing. Next was "Heaven Passes The Torch", which initially only Marc sang… that was the version heard at Jimi's memorial service in Memphis. Soon after we brought in Bill Champlin, Mike Reno, Kevin Chalfant, Bobby Kimball and me to add parts. Then I wrote "Never Enough" for the great David Pack to sing. Then I wrote "The Music Remembers" for the great Work Of Art members – Lars Sufsund and Robert Sall… then Kelly Keagy for "Long Road Home". And of course "As Is" by Jimi and "Follow Your Heart" by Ferg. One of my favorites is a song I wrote for Jimi as we were recording his Crossroads Moment CD back in 2009. He got off the phone very shaken and reported that his step-dad had just passed away… this was the man that raised him. That night in a dream I had a vision of him up in heaven and I got up and wrote "Streets Of Heaven". It was a bonus track from that record but remains one of my favorites. I sang it at Jimi's service.
Hardrock Haven: You're one of the most experienced songwriters in Rock music, but as the Torch album is a special one in many ways – was the experience of writing songs for it any different than before?
Jim Peterik: When I'm in grief, this is my way of dealing with it… turning it into music the whole world can share. That way they will live forever.
Hardrock Haven: What else are you up to at the moment?
Jim Peterik: The Ides Of March just released our box set entitled The Ides Of March- Last Band Standing which is the definitive 50-year-anniversary collection. It's seventy seven tracks spanning from 1964 to the present with a DVD of us live at House Of Blues in 2014 plus archival video clips. We are very proud of our 50-year (and counting) legacy.
Hardrock Haven: Is there anything you'd like to add in the end?
Jim Peterik: When Pride of Lions played the Frontiers Rock fest in Milan recently, I was very inspired by the recognition of my songs, the Pride songs… The audience seemed to sing along with every chorus and the overwhelming response to our Jimi homage set – especially the response to the sometimes overlooked gem, "Man Against the World"… the ovation just kept going. We just couldn't believe it. Toby – of course – nailed it. I'm sure Jimi was smiling down. I just have to thank the Euro-melodic rock community for keeping great music and messages alive. I am so proud to be a part of this community. Blessings from Jimbo!
Visit Jim Peterik online: http://jimpeterik.com/