Steve "Zetro" Sousa of Exodus
by Chris A.
– Senior Photojournalist —
Steve "Zetro" Sousa has been singing Heavy Metal for decades. As an early member of the iconic bay-area thrash metal band Exodus he's experienced the good times and the bad. He's left the band on a couple occasions but returned to the fold in 2014.
Today he's comfortable in his role, getting along well with his bandmates and having a great time delivering in your face, brutal metal the Exodus way. Hardrock Haven's senior photojournalist Chris A., had a few moments to shoot the breeze with the Exodus frontman.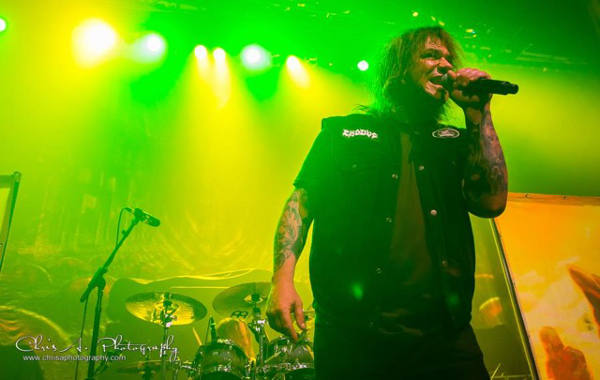 Hardrock Haven: Welcome back to Exodus, you've got a great heavy metal pedigree! What happened that made it possible or comfortable for you to return to the band?
Steve "Zetro" Sousa: It's great to be back with Exodus, there were a lot less distractions to coming back than 10 years ago. My kids are all grown up, I'm not married to their mom anymore. She wasn't a big supporter of me being in the band. I think things are going to be a lot easier this time around.
Hardrock Haven: Exodus as a band has been around for 35 years. What's your take on the current state of heavy metal music?
Steve: Metal will always be around. It seems like we have super loyal fans. No one is jamming music down their throats and as long as the bands continue to deliver the genre will be okay. I mean we're out on the road with Testament right now and it's packed every single night. There are a lot of people who are coming out to see the show.
Hardrock Haven: You're going out on the road with Testament, a band you have a relationship with. Tell me a bit about your background with Testament.
Steve: I was the original singer in Testament before they were even called Testament, they were called Legacy. I left Testament to join Exodus however, I knew a guy named Chuck Billy who was a singer. I told him that Testament was looking for a singer and he should go try out! He checked them out, and 28 years later he's still with them!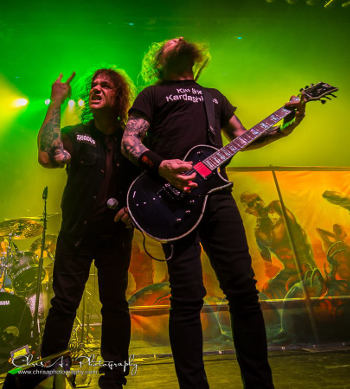 Hardrock Haven: What can people expect when they come out to see Exodus performing live?
Steve: The live show is the best it's ever been. The band is very tight and playing very well. We've got a new record out called Blood In Blood Out and we're really happy to be playing that album. All I can say is come out and see us! It's pure mayhem!
Hardrock Haven: You've got a great vocal style for a metal singer, very "Bon Scottish" in delivery. I especially like that when you sing, lyrics are understandable. What's your approach to vocal style?
Steve: It's just the way I've gone at it. It's just what happened as I worked to develop my sound. It is very Bon Scott-like, very snarly.
Hardrock Haven: Your bandmate Gary Holt is totally one of the most metal guys in music. Have there been any issues with Gary performing with Slayer?
Steve: Yeah he is very metal and are no problems with Gary playing with Slayer at all. There is a guy we use named Kragen Lum from the band Heathen if there are any conflicts in the schedule. He comes in an fills in for Gary. He's quite prepared, knows all the songs and the leads so he can step right in.
Hardrock Haven: How does it feel doing some of the Dukes era songs live? Do you put your own spin on it and try and make it unique, or try and keep it true to the recording?
Steve: I like a lot of those songs and they are really fun to play. I'll be singing some of those songs tonight while we're here in San Antonio, Texas.
Hardrock Haven: The last Exodus disc you performed on was Tempo of the Damned, what was it like for you to be back in the studio working on Blood In Blood Out?
Steve: Correct, the last disc I did was Tempo of the Damned. You know, I've been playing with Exodus for 21 years and now I'm 51. It's like riding a bicycle, you just need to learn how to get back on the pedals again. It was very comfortable and a nice relaxed atmosphere.
Hardrock Haven: How's the fan response been to the new disc, Blood In Blood Out?
Steve: It's been great! They love it. I think it's a great, well written album. It's typical Exodus, pure brutality at it's best.
Hardrock Haven: What's the best thing about being on tour with Exodus?
Steve: I think everyone knows it's just a sheer brutal attack. Fans know what they are going to get when they come to a show. They are screaming for "Bonded By Blood," "Strike The Beast" so that's the best. It's the crowd mentality we get at an Exodus show. We keep it brutal and heavy?
Hardrock Haven: Do you have anything you'd like to say to the readers who will be checking out this article?
Steve: I hope you all come out and see Exodus and Testament on this tour. It's great. It's two great bay area legends of thrash metal tearing it up together. If you've seen us, you know what it's about. If you haven't seen us, well you need to come out and see this tour.
Hardrock Haven: Where can people who are interested in Exodus find out more information about the band?
Steve: Drop by www.exodusattack.com you can also find me at on social media including Twitter and Facebook. I hope everyone checks us out and I look forward to seeing people at our shows!