Kiske/Somerville | City of Heroes
by Justin Gaines
– Senior Columnist/News Editor —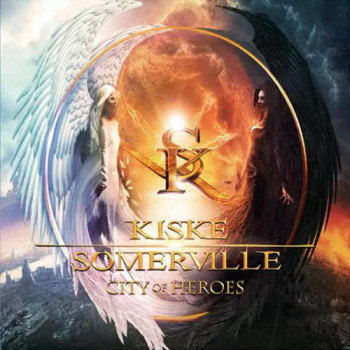 Fans of the Kiske/Somerville project, which paired vocalists Michael Kiske (Unisonic, ex-Helloween) and Amanda Somerville, have something to celebrate this year. Their 2010 debut album was thought to be a one-off, but the duo is back with a new album, titled City of Heroes. Once again they are joined by Primal Fear bassist Mat Sinner and guitarist Magnus Karlsson, who wrote most of the songs for this album.
City of Heroes is notably different from the Kiske/Somerville debut. It's still very polished and very melodic, but there seems to be a harder rocking, more metallic vibe this time around. Stylistically it's very much in the vein of Karlsson's other projects like Last Tribe and Allen/Lande, and at times it even veers into Within Temptation territory, which is fun. Some of the songs could pass as Pretty Maids songs, but that may be Jacob Hansen's mixing job at work. What hasn't changed is the fact that two of the best singers in the business have turned in two very powerful performances. Kiske, who is most strongly identified with the classic Power Metal sound, has proven to be a perfect Melodic Rock singer. And Somerville remains one of the strongest female voices in Melodic Rock, possessing a great range and real power.
There are twelve songs on City of Heroes, and not a single one is a dud. The album opens on a strong note with the title track and never really lets up. "Rising Up," "Breaking Neptune" (written by After Forever's Sander Gommans) and "Open Your Eyes" are also highlights, and should give you a good idea what to expect if you're sampling some tracks before buying. Again, the whole album is quite strong, and it's hard to listen to these songs and not hear "what might have been" had Karlsson remained on board for that last Allen/Lande release.
If you liked the Kiske/Somerville debut, chances are you're going to love City of Heroes. It's also a no-brainer for fans of either singer's previous work, but especially Kiske's Place Vendome albums. Beyond that, just about any fan of Melodic Hard Rock bands like Allen/Lande, Unisonic, Pretty Maids and TNT should check this album out.
Genre: Melodic Hard Rock, Melodic Metal
Band:
Michael Kiske (v)
Amanda Somerville (v)
Magnus Karlsson (g) (k)
Mat Sinner (b) (v)
Veronika Lukesova (d)
Track Listing:
1. City of Heroes
2. Walk on Water
3. Rising Up
4. Salvation
5. Lights Out
6. Breaking Neptune
7. Ocean of Tears
8. Open Your Eyes
9. Last Goodbye
10. After the Night is Over
11. Run With a Dream
12. Right Now
Label: Frontiers Records
Website: www.facebook.com/kiskesomerville
Hardrock Haven rating: 8.5/10