by Anabel Dflux
– Senior Photojournalist —
April 11, 2015 at Club Nokia in Los Angeles, CA —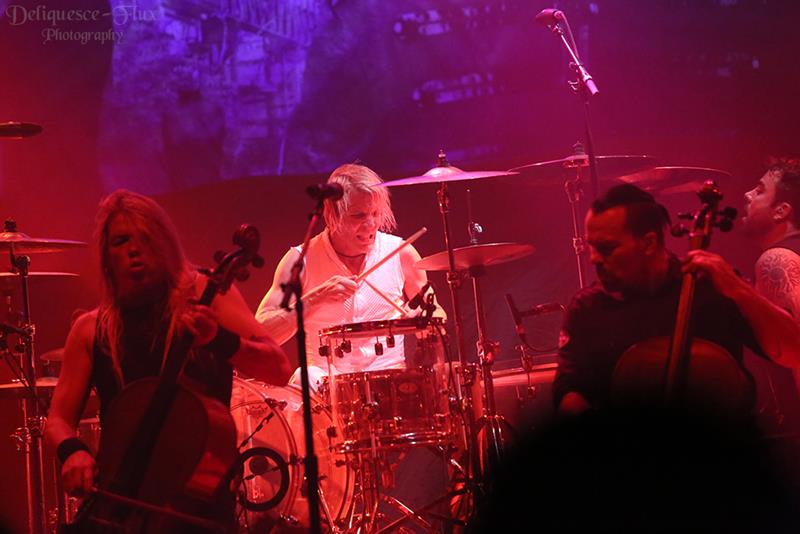 Known for their exquisitely unique sound, what started as a band of Metallica covers has become a world-wide phenomenon. Genuinely an eye-catching group, Finnish act Apocalyptica rocked one of Los Angeles' most premier venues- Club Nokia, while on tour with VAMPS and Sixx A.M.
Four long years fans have awaited the band's return, and these musicians most certainly come bearing gifts- a new album entitled Shadowmaker, releasing in the U.S. on April 21st. The live performance featured a couple of songs off of this new record, enticing and exciting the eager audience members. The set list also included a Metallica cover, and a handful of other orchestral songs, highlighting each performer's remarkable ability.
With the very talented Franky Perez tackling vocals, he brought a new life into the band's infamous song "I Don't Care," while bellowing out brilliant lyrics to the new single "Cold Blood" and title track "Shadowmaker." Cellists Eicca Toppinen, Perttu Kivilaakso, and Paavo Lötjönen were an impactful trio, mesmerizing each and every crowd member. With constant audience interaction, and wonderfully dynamic personalities, these three truly embody performing with one's heart and soul. Drummer Mikko Sirén gave a fantastically adrenalized and exciting performance, as he drummed with a fervor that could not be matched!
Playing with an intense passion while leaving a lasting mark on musical history, Apocalyptica is a band you shouldn't miss.
LIVE! | Apocalyptica Photo Gallery
Be sure to catch Apocalyptica on the road now:
04/13/2015 US – Denver, CO (Ogden Theatre)
04/14/2015 US – Kansas City, MO (Midland Theatre)
04/16/2015 US – Houston, TX (Warehouse Live)
04/17/2015 US – Dallas, TX (Bomb Factory)
04/19/2015 US – Minneapolis, MN (Mill City Nights)
04/20/2015 US – Chicago, IL (The Vic Theater)
04/21/2015 US – Detroit, MI (Royal Oak Music Theatre)
04/23/2015 CA – Toronto, ON (Phoenix Concert Theatre)
04/24/2015 US – Sayreville, NJ (Starland Ballroom)
04/25/2015 US – Worcester, MA (Worcester Palladium)
04/27/2015 US – New York, NY (Best Buy Theater)
04/28/2015 US – Philadelphia, PA (Electric Factory)
04/29/2015 US – Silver Springs, MD (The Fillmore)
Connect with Apocalyptica here:
http://www.apocalyptica.com/en/ – https://www.facebook.com/Apocalyptica