Maxx Explosion | Dirty Angels
by Justin Gaines
– Senior Columnist/News Editor —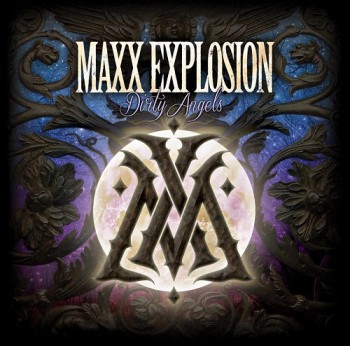 American Melodic rockers Maxx Explosion are back with a new album, their second, titled Dirty Angels. Maxx Explosion is, of course, the band put together by House of Lords musicians Chris McCarvill (who also handles lead vocals here), Jimi Bell and BJ Zampa. They made a splash with their 2013 debut Forever, and the chemistry these three showed on that album is undeniable on Dirty Angels.
Maxx Explosion's overall sound hasn't changed much since the debut. They're still squarely in the harder Melodic Rock territory of bands like Dokken, Adriangale and of course House of Lords. There are some more AOR moments, and some nods to sleaze rock, but for the most part this is a very straightforward Melodic Rock album. On Dirty Angels, the band sounds tighter and more polished than ever. The huge vocal harmonies, especially during the choruses, are the band's "secret weapon." Obviously they get a lot of practice with that with House of Lords, but it's such a powerful part of the Maxx Explosion sound. Jimi Bell's melodic hooks were already powerful enough, but when these guys all start singing on top of them the result is on par with Nelson or Harem Scarem's best moments.
If there's a downside here it's that with 14 tracks (even discounting the brief instrumental intro) Dirty Angels runs a bit long. Cutting down to 10-11 of the best songs might have made this a more powerful experience. Dropping the head-scratcher cover of Gary Wright's "Dream Weaver" would have been a good start. Still, that's a minor complaint when the majority of Dirty Angels is so strong. "Doctor Saturday," "Nothing's Easy" and the title track are definite highlights, but almost any track you pick from this album is going to knock your socks off.
If you liked the first Maxx Explosion album or are a fan of these guys' work in House of Lords, this is a no-brainer. Get your hands on a copy of Dirty Angels right now. If you're new to the band but enjoy classic-style Melodic Rock with huge vocal harmonies – think Nelson, Harem Scarem and House of Lords – it's past time you checked out Maxx Explosion, and Dirty Angels makes for an unforgettable introduction.
Genre: Melodic Rock, Melodic Hard Rock
Band:
Chris McCarvill (v) (b) (k)
Jimi Bell (g) (v)
BJ Zampa (d) (v)
Track Listing:
1. Voodoo Moon
2. Doctor Saturday
3. Crazy Hot
4. Over You
5. Nothing's Easy
6. Ordinary Life
7. All For You
8. Over the Line
9. Impossible
10. Dream Weaver
11. Trigger Happy
12. Fast Enough
13. On the Rise
14. Dirty Angels
Label: Kivel Records
Website: www.facebook.com/maxxexplosion
Hardrock Haven Rating: 8.5/10