Scott Weiland and the Wildabouts | Blaster
by Matt Karpe
– Senior Columnist —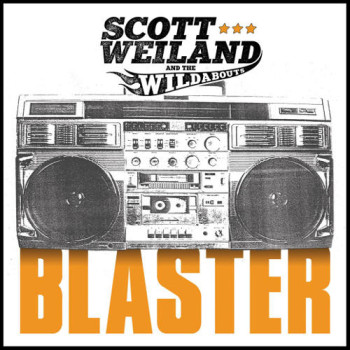 The enigmatic Scott Weiland has never played by the Rock n' Roll rule book. A seemingly integral part of the early 90s' Grunge scene with the legendary Stone Temple Pilots, Weiland hit the skids with drug addictions and jail time, but even so, there was never any doubt of his talent for writing and performing.
Whether it be with STP or the latter but almost just as good Velvet Revolver, the flamboyant Weiland has been a general mainstay over three decades of Rock, and now his latest record Blaster, with a skilful backing band known as The Wildabouts, finds Weiland rejuvenated and ready for the next chapter in an already chaotic life.
With a diverse track listing full of influences ranging from 60s' west coast rock to the classic 90s' grunge, Blaster is a mixed bag full of soaring choruses and high quality musicianship.
"Modzilla" and "White Lightning" are the quintessential STP-like grunge numbers, with swirling bass lines from Tommy Black, pumping drum beats from Danny Thompson and excellent riffs and the odd mesmerizing solo from the guitar of Jeremy Brown. Weiland's classic snarl shines through as if it was still the mid-90s' and in these moments, you are reminded exactly what a force Scott Weiland once was, and could be again.
"Hotel Rio" and "Way She Moves" are softer rockers with blues elements but they are nonetheless enthralling. With catchy choruses and 70s' glam foundations, the early diversity of Blaster is pretty impressive.
"Amethyst" is amped up and features more delicious guitar hooks from Brown and a later solo is spellbinding.
The 'nice' rock ballad of "Blue Eyes" seems to be about Weiland's wife who he has already claimed to be his best inspiration, and this could be why the lyrical themes are generally light hearted and positive throughout.
A brilliant vocal display on "Youth Quake" sounds a lot like Bleach-era Kurt Cobain and the cover of T-Rex's "20th Century Boy" is well modernised.
After plenty of trials and tribulations, it's nice to see Scott Weiland back doing what he does best, and with The Wildabouts behind him, he has a strong band ready to help him get back to the top of the ladder. Blaster is the first step, and hopefully what comes next will continue an upward trend.
Note: A day before the release of Blaster, Jeremy Brown was found dead in his home, aged only 34. A devastating loss and, as his guitar work showed on the record, a very talented musician. RIP.
Genre: Rock, Grunge, Alternative
Band:
Scott Weiland- Vocals
Jeremy Brown- Guitars
Tommy Black- Bass
Danny Thompson- Drums
Track Listing:
1. Modzilla
2. Way She Moves
3. Hotel Rio
4. Amethyst
5. White Lightning
6. Blue Eyes
7. Bleed Out
8. Youth Quake
9. Beach Pop
10. Parachute
11. 20th Century Boy
12. Circles
Record Label: Soft Drive Records
Website: www.scottweiland.com
Hardrock Haven Rating: 7/10