The Tragically Hip – Canadian Music Icons
by Mark Yesford
– Photojournalist —
April 17th, 2015 at Budweiser Gardens in London, On., Canada —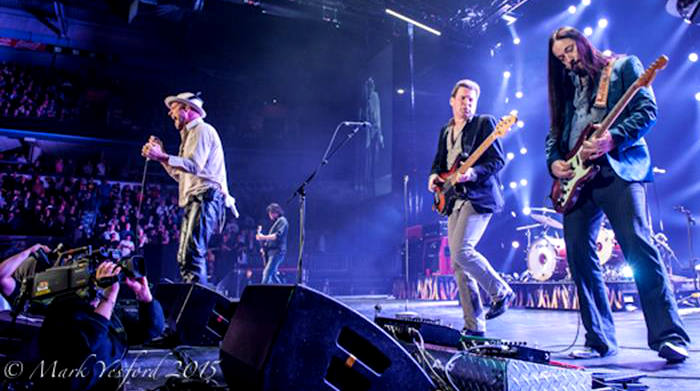 Canadian music icons, The Hip, with their very animated frontman, Gordon Downie, made a tour stop at London's Budweiser Gardens as part of their Fully and Completely 2015 North American tour. The tour commemorates their 1992 re-issue release of their million plus selling Fully Completely album. With hit tracks such as "At The Hundredth Meridian," "Fifty Mission Cap" "Fully Completely" and "Locked In The Trunk Of A Car," Fully Completely is an essential classic rock must have for your music collection. The re-issue includes two new tracks from the original recording sessions as well as a second disc featuring a 1992 concert at the also iconic Horseshoe Tavern in Toronto. The Hip are also members of the Canadian Music Hall Of Fame and winners of numerous music awards including 14 Junos with 9 of their 12 studio albums and 2 live albums reaching #1 in Canada. The second 20 stop leg of the Fully and Completely tour will kick off in Kirkland Lake, Ontario Canada June 26th ending with two shows at the prestigious House of Blues in Houston TX. USA October 9th and 10th.
The Tragically Hip:
Gordon Downie – Vocals/Guitar
Paul Langlois – Guitars/Backing Vocals
Rob Barker – Guitars
Gord Sinclair – Bass/Backing Vocals
Johnny Fay – Drums
The Tragically Hip Concert Photo Gallery
Set List:
Grace, Too
Ahead by a Century
My Music at Work
At Transformation
In View
Courage
Looking for a Place to Happen
At the Hundredth Meridian
Pigeon Camera
Lionized
Locked in the Truck of a Car
We'll Go Too
Fully Completely
Fifty Mission Cap
Wheat Kings
The Wherewithal
Eldorado
Poets
We Want To Be It
New Orleans is Sinking
Nautical Disaster
Three Pistols
(Source setlist.fm)
For tour dates near you on the second leg of tour, visit http://www.thehip.com.