Empires of Eden | Architect of Hope
by Justin Gaines
– Senior Columnist/News Editor–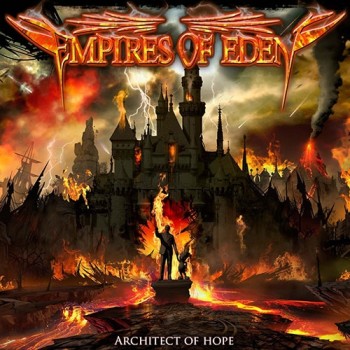 Guitarist Stu Marshall's Empires of Eden project is back with a new album, titled Architect of Hope. Marshall is an Australian guitarist who was in Dungeon and is currently a member of Death Dealer. He started Empires of Eden in 2008 and since then their albums have featured guest appearances from some of the best vocalists in metal. This time around, Marshall is joined by Ralf Scheepers (Primal Fear), Rick Altzi (Masterplan, Thunderstone), Mike Dimeo (ex-Masterplan, ex-Riot) and Jeff Martin (Racer X).
Musically, Architect of Hope carries on the same overall sound as the previous three Empires of Eden releases. It's somewhere between the traditional and Power Metal sounds, but with rich orchestral elements and blistering riffs and solos. Marshall handles everything but the lyrics, where he lets each individual vocalist come up with their own take on the song. It's a novel approach, but one that ensures some different "voices" while maintaining the album's overall atmosphere and identity.
As expected, the guitar work on Architect of Hope is pretty spectacular, and Marshall's arrangements add a measure of power and glory. It's the vocal performances that put the album over the top though. Scheepers in particular shines here, but that's no surprise. This kind of music is perfect for his piercing scream. Altzi and Dimeo also turn in strong performances.
There are no real surprises here, and the album could use a bit more melody to offset the shredding, but aside from that there's a lot to like on Architect of Hope. Fans of Heavy/Power Metal bands like Iced Earth, Helstar, Primal Fear, Jag Panzer and Iron Savior should give Empires of Eden a try, as should fans of any of the singers featured on this album.
Genre: Heavy Metal, Power Metal
Band:
Stu Marshall (g) (b) (k)
Jason Manewell (d)
Track Listing:
1. Vanish in the Light
2. Architect of Hope
3. Push the Limits
4. Taken
5. Weaponize
6. Six Feet Under
7. Killing as One
8. Silent Hell
9. Holy Pharaoh
Label: MelodicRock Records
Website: www.facebook.com/empiresofeden
Hardrock Haven rating: 7/10