Evil Invaders | Pulses of Pleasure
by Justin Gaines
– Senior Columnist/News Editor —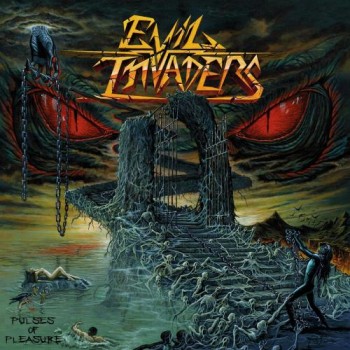 Belgian Speed Metal upstarts Evil Invaders delivered their full-length debut album, titled Pulses of Pleasure, earlier this year. Beneath a wicked-looking cover that brings to mind the classic early '90s Death Metal covers, Pulses of Pleasure offers up a high-speed dose of '80s-inspired Heavy Metal for the Metal thrashing mad. They're kind of an odd man out on a label like Napalm, which usually serves up Symphonic and Gothic Metal bands, but it's good to see old school bands like this grab some label attention.
Falling somewhere between the retro thrash of bands like Fueled by Fire and Bonded by Blood and the classic speed metal of Razor and Exciter, Evil Invaders comes out of the gate with a full-on Metal assault. Pulses of Pleasure is all machine gun rhythms, blistering solos, dark, aggressive lyrics and high-pitched vocals that will make you wonder what it would sound like if Blitz Ellsworth sang on an Exciter album. Actually, the vocals are what stand out the most about this album, and they're not going to be to everyone's liking. After a few songs you start to need a break from it. Perhaps another instrumental like "Blinded" after the third track might have helped.
Vocal issues aside, and assuming you're OK with the fact that Evil Invaders sticks pretty close to the thrash/speed rulebook, Pulses of Pleasure does have some gems, particularly the opening anthem "Fast, Loud 'n Rude," the electrifying "Stairway to Insanity" and the Helstar-sounding closer "Master of Illusion."
If bands like Exciter, Overkill, Helstar and even Liege Lord are your thing, Evil Invaders should not disappoint. Likewise if you're into the new breed of speed/thrashers like Bonded by Blood, Enforcer and Skull Fist you'll want to give Pulses of Pleasure a listen. It's not perfect, but there is still plenty here to get heads banging.
Genre: Thrash Metal, Speed Metal
Lineup:
Sam Lemmens (g)
Senne Jacobs (d)
Johannes "Joe" Van Audenhove (g) (v)
Nico Beekwilder (b)
Track Listing:
1. Fast, Loud 'n Rude
2. Pulses of Pleasure
3. Eclipse of the Mind
4. Siren
5. Stairway to Insanity
6. Shot to Paradise
7. Venom
8. Blinded
9. Master of Illusion
Label: Napalm Records
Website: www.facebook.com/evilinvaders
Hardrock Haven Rating: 7/10