Heartbeat | Facebook Lover
by Joe Mis
– Senior Columnist —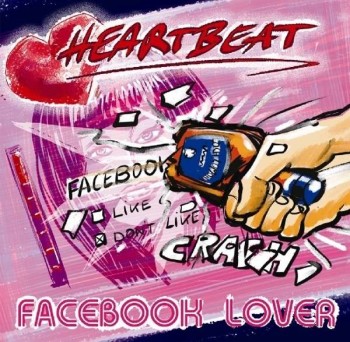 Heartbeat's Facebook Lover is the work of singer and songwriter and multi-instrumentalist Thomas Jauer. Paired with an upcoming comic book, Facebook Lover is a bit of current social commentary delivered with music that spans genres from Hard Rock to Hair Metal to Pop. It is the story of the somewhat twisted relationship between lead characters Dan Driver and Betty Beat and the impact that modern social media (e.g. Facebook and Twitter, to name a few) can have on everyday life.
"You Can Make My Heart Beat" opens the album, highlighting Jauer's vocal talents. Musically it is blues rock crossed with pop, and features a toe-tap inducing rock groove with a kicky bass line. "Reflexions" is a more edgy, hard rocker with a touch of 80s hair-metal. Jauer gets to display his impressive guitar and bass chops along with a smooth vocal delivery. A bluesy bass line mixed with some pop rhythms make "Change My Life" a strong tune, displaying Jauer's versatility as both a performer and songwriter. "I Would Die For You" is a blues rocker through and through. Jauer manages to add just the right amount of grit to his voice to make it effective and the lead break is slick and passionate. Pop-rock makes a strong return on the driving "Half A Million" and synth heavy "Sticky Fingers."
"Facebook Lover" is a pop-rock tune with biting lyrics and energetic delivery, while "Old Fashioned Love" is almost a Southern rock acoustic number – a radically different tune and a nice change of pace. "Body Talk" is something that could easily be done note for note by Duran Duran, weaving plenty of synths with a near dance beat. Hard driving 70s rock inspired much of the sound of "Too Much Is Not Enough," while Jauer delivers his best vocals on the slow but fiery "Stop The World." "So Easy" is a neat bit of pop rock with some spirited vocals and catchy hooks, while "What About Me" is a slick sounding commercial rocker with. The closer "Two Minutes To Midnight" will remind most listeners immediately of Winger thanks to some rich acoustic guitars, a gritty vocal line and a dynamite guitar solo.
The album's sound is quite decent, save for some artificiality in the drum and percussion lines. The vocals are crisp and clear, and the instruments are well balanced. The variety of musical styles are impressive, and Heartbeat's delivery is pretty much spot on no matter the tone or tempo. Thomas Jauer proves himself to be a very strong musician, but without a doubt the bass is his strength. He's no slouch as a singer either, and while somewhat limited in range he uses every bit of it, varying his style and power as needed. The production values of Facebook Lover also highlight his talents on the other side of the studio.
Heartbeat's Facebook Lover is recommended for fans of modern rock as well as old school guitar rock. This album should have broad appeal thanks to the number of genres presented, and all are presented well. Jauer put his heart and soul into this release, and his efforts are obvious. Facebook Lover is a winner all around.
Genre: Hard Rock, Pop
Band: Thomas Jauer (all instruments, vocals, and programming), Robby Matthes, Richard Kersten (backing vocals)
Track Listing:
1. You Can Make My Heart Beat
2. Reflexions
3. Change My Life
4. I Would Die For You
5. Half A Million
6. Sticky Fingers
7. Facebook Lover
8. Old Fashioned Love
9. Body Talk
10. Too Much Is Not Enough
11. Stop The World
12. So Easy
13. What About Me
14. Two Minutes To Midnight
Label: Onslow Records
Website: https://www.facebook.com/pages/Heartbeat/184182478384275?ref=tn_tnmn
Hardrock Haven rating: 8.5/10