Crazy Dave's Music Experience delivers The Student Experience
by Steve Patrick
– Senior Columnist —
The Crazy Dave's Music Experience tent is a staple at every major rock festival in the U.S. and is a must-visit location for any musician or music fan.
The Crazy Dave's Music Experience powered by Musicians Institute is a free, traveling interactive exhibit where fans are treated like rock stars and get hands-on interaction with tons of musical equipment–much of which is used by their favorite artists–participate in Meet and Greets with some of their favorite band members, attend clinics, check out acoustic sets, win prizes, and more. The exhibit is designed to tell the iconic stories of the music brands that helped build the industry. Thousands of festival attendees visit The Crazy Dave's Music Experience each year.
The Crazy Dave's Music Experience kicked off their 2015 music festival season April 25 & 26 at Florida's biggest rock festival–Monster Energy Welcome To Rockville–in Jacksonville. The Experience was also present at Monster Energy Carolina Rebellion (May 2 & 3 in Concord, NC) and will be on location at Rock On The Range (May 15, 16 & 17 in Columbus, OH). All three festivals are part of the World's Loudest Month.
An important element of The Crazy Dave's Music Experience that will be expanded at each festival this year is The Student Experience. The Student Experience is a community outreach program for aspiring young musicians created by The Crazy Dave's Music Experience and supported by their partner, Musicians Institute. It's a special opportunity for students enrolled in music-related academic programs–and their educators–to receive access to The Crazy Dave's Music Experience before the festival gates open, and receive behind-the-scenes access throughout the day. Participating students will gain a valuable perspective on the wide array of opportunities within the music industry. Participants will meet with band members, sound and lighting engineers, guitar techs, production staff, and representatives from instrument manufacturers.
In advance of Rock on the Range 2015, Hardrock Haven had the opportunity to chat with event producer and founder Mark "Squiggy" DiGiacomo about what Crazy Dave's Music Experience is bringing to the festival this year and all of the learning opportunities that The Student Experience has to offer: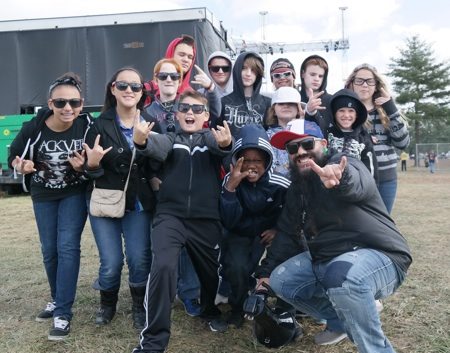 HRH: What does Crazy Dave' Music Experience have in store for this year's ROTR?
Mark "Squiggy" DiGiacomo: Well, our footprint has doubled, so we're really excited about that. Last year our tent was 30' x 60' and this year it's gonna be 60' x 90', so our tent has grown exponentially. We have a lot more artists that are gonna be coming over. We have some more manufacturers that weren't there last year that have kind of come aboard. Got some really good legacy brands like Marshall Amps … is a part of us now and so is Fender, so it's grown man and it's going to be wild.
HRH: Can you share with us who some of the artists are that will be visiting the tent for signings?
Mark "Squiggy" DiGiacomo: Yeah, so what we're doing this year is kind of taking the artist meet and greet thing to a new level…we're going to provide some experiences that attendees could not have had otherwise. For example, we do a "30 Seconds to Shred" contest where the people have 30 seconds to literally play their heart out, then we pick a winner, and that winner wins a guitar. Well for this year at ROTR, the winner's going to be able to watch Slash from the side of the stage. So that's pretty big.
We're got a Jim Root (Slipknot) mask contest that's going to be done through social media and our partnership with Dunlop when anyone will be able to make a Jim Root mask, upload it to the Experience Facebook page, and then Jim will actually pick the top 13 finalists. Then those 13 kids will wear those masks to ROTR to the Experience and Jim will come over, pick the winner, sign all the masks, and then the winner and their friend will be able to watch Slipknot from the side of the stage.
So we've got things like that happening that are just full-on experiences that will hopefully blow some kids' minds away. Hopefully we're gonna have the guys from Judas Priest over, which is big…yeah man, it's just constantly growing and evolving. It's really exciting.
HRH: Another huge part of the Crazy Dave's Music Experience is The Student Experience where music students get a close up look at not only the musicians at ROTR, but also the inner workings of the music industry. Where did The Student Experience idea come from?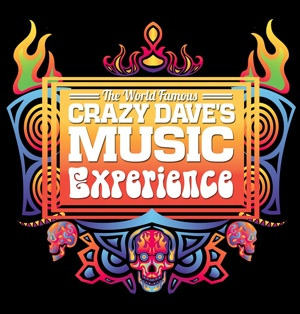 Mark "Squiggy" DiGiacomo: Well, you know, music education is a pretty deep passion for me personally and our partnership with Musicians Institute has really given us a lot of … I don't want to say legitimacy, but it definitely helps when you have somebody like a Musicians Institute behind you to help you navigate those educational waters. They're our big partner this year also, so now we're powered by Musicians Institute.
So now kids get to know why instruments are made the way they are…for example, why do some companies use rosewood fretboards while others use maple? So a lot these kids … they're not getting answers like that anywhere because of budget cuts where music's being pulled out of schools or for whatever reason these stories aren't being told, so we want to teach these kids when they're young why these things are made this way because I think that's as important as anything else that they'd learn.
HRH: That's really great. What are the benefits to having a program like this on-site at a festival like ROTR?
Mark "Squiggy" DiGiacomo: The thing that the festival space allows us to do is it allows me to do backstage tours as well, so another thing that we want to tell the kids that even if you can't be Zakk Wylde or Slash or whoever up on the stage … if you can't be the talent or artist on stage, you know for every artist on stage there's like 5-6 people backstage that actually make this whole thing happen, so it's important to me to have them talk to front of house engineers, or lighting designers, or tour managers, or just techs. You know…to let them to know that, even if you can't be onstage, you can still be a part of this machine … and this dream…and this lifestyle. So the festival grounds allow us to do that and it also allows me to have the rock stars come over and talk to the kids. So the festival grounds are a really important space for The Student Experience.
HRH: What artists have really gone above and beyond with participating in The Student Experience?
Mark "Squiggy" DiGiacomo: John 5 has been great. Mark Tremonti has been great. You know, I got to say man, when it comes to kids the artists have all been so over accommodating and for me it's really good to see that we value our musical youth. So whether you're John 5 or you're Squiggy trying to put together a place for inspiration … kids are still important. And I have to say, I know that sounds like kind of a cliché answer man, but I've just been taken back by everybody's commitment to the youth. One thing that John 5 does that I think is incredible is when you're in a meet-and-greet with him or an artist signing, if you're a kid he gives you a pick. But he only does it for kids which is awesome. That's fucking awesome.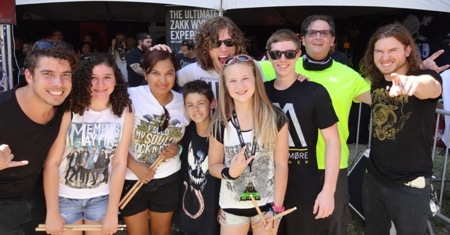 HRH: That's the kind of thing that those kids will remember forever.
Mark "Squiggy" DiGiacomo: Exactly man. I've seen him give picks to kids in line and you can see the kid just instantly light up. You know? There was just a memory created and this kid's going to tell this story for the rest of his life.
HRH: Well it really is great what you're doing with The Student Experience. I know it's a free program for music students…how do educators reach out to get signed up?
Mark "Squiggy" DiGiacomo: They can do it through our Facebook page, but we also just launched a website called thestudentexp.com. A woman named Sarah Hernandez and she actually runs The Student Experience for me. She's actually my rockstar. So right through thestudentexp.com they can sign up … or Sarah also monitors the Facebook page, so they can e-mail through the Facebook page. She also sends out e-mails to all the local academic programs.
HRH: Oh so you're actively seeking out students in the area in advance? That's pretty cool.
Mark "Squiggy" DiGiacomo: Oh yeah man. Our biggest hurdle with The Student Experience is that people…the teachers or schools themselves … they don't believe it, they think it's too good to be true. You know? They think there's a catch, but there really isn't. We're not really trying to do anything sideways. We're just there to promote inspiration.
HRH: Well Squiggy, I really appreciate you taking the time to talk with us.
Mark "Squiggy" DiGiacomo: No problem man, thank you!
For more information on The Student Experience, please visit www.thestudentexp.com.
For more information on Crazy Dave's Music Experience, please visit www.crazydavesmusic.com or www.facebook.com/CrazyDavesMusicExperience.