Sabaton Rock The Greek Theater
by Anabel Dflux
– Senior Photojournalist —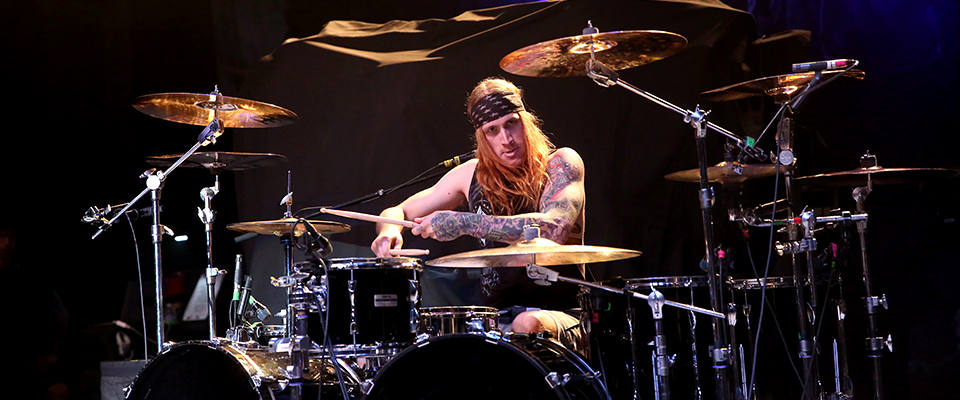 Metal band Sabaton rocked the Greek Theater in Los Angeles this past Friday night… and oh was it a party! One of the most enthusiastic, kind hearted and fun bands to find their way over to the states- Sabaton put on a show that caused the entire theater to stand up and jump. Dressed in theme with camo, the band visually represented their last album Heroes, and the set list ran primarily through those songs.
Each and every moment of Sabaton enjoyed interacting with the audience by cracking jokes and adding fun commentary to their music, creating a fun filled atmosphere that every Metal head could enjoy. The encore truly showed off the band's love for their fans, as vocalist Joakim pulled a young fan on stage to enjoy the final song with them.
A band that deserves to be selling out headlining shows in the states, Sabaton is not worth missing!
Sabaton is:
Hannes Van Dahl – Drums
Joakim Brodén – Lead Vocals
Pär Sundström – Bass
Thobbe Englund – Lead Guitar
Chris Rörland – Lead Guitar
Set List:
1. Ghost Division
2. To Hell and Back
3. Carolus Rex
4. Swedish Pagans
5. Resist and Bite
6. Art of War
7. Night Witches
8. Primo Victoria
9. Metal Crue
LIVE! | Sabaton Concert Photo Gallery
Connect with Sabaton here: http://www.sabaton.net/ – https://www.facebook.com/sabaton/