Straight 2 Video | The Sequel Has Landed
by Derric Miller
– Managing Editor —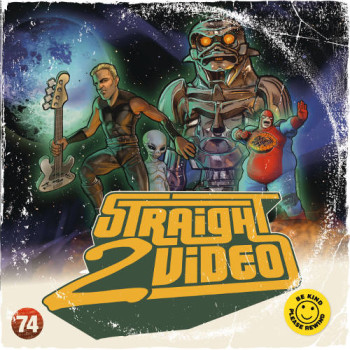 You probably know Rob Lane, or Laney74 as he's sometimes referred to, as the bassist in Teenage Casket Company (TCC) or as the sometimes European touring bassist for Bulletboys. Or, you may have heard the original Straight to Video EP that came out a few years back. The concept here is to recreate the songs from the soundtracks of his favorite movies, to reimagine and celebrate those songs by recording them with his musician friends.
This time around, Side A is movies from the '80s, and Side B is movies from the '90s.
It all starts out with "Time Runs Wild," a The Coreys Haim and Feldman movie, the classic Dream a Little Dream. Teenage Casket Company guitarist Dave Kerr takes on the lead vocals, and he has a pop, syrupy and melodic delivery that is perfect for the song.
While the opener wasn't a massive hit song, the second track, Modern English's "Melt With You" from the movie Valley Girl was a huge hit. Lane sings on this one, and if you remember him singing "Anything" on the first Straight to Video release, you can hear he's finding his voice. In fact, with Lane and Kerr singing backing vocals in TCC, their live shows must sound supreme. This is a kick ass remake, one of the better songs on the release. This is the good kind of nostalgia …
Another famous hit song the release tackles is Simple Mind's "Don't You (Forget About Me)" from the film The Breakfast Club. The band does this justice as well, with an atmospheric, and in one sense it's yearning, but when the "la la la la las" hit, then it seems kind of bubbly. This is a somewhat tricky song to cover, and they got it right.
TCC lead singer Rob Wylde steps up to the mic on "Two Heads Are Better Than One" from Bill & Ted's Excellent Adventure. Wylde brings glam and sleaze to everything he sings and it's slathered all over this remake. Having former Enuff Z' Nuff guitarist Johnny Monaco on the track adds to the vibe as well. You can take a cover two ways—honor the original or make it your own. The original band was basically Nelson, but they went by Power Tool for the movie. Wylde and the rest of them turned everything up to 11 and just rocked the crap out of this one. Better vocals, better guitar, better everything.
Once the '90s side hits, you feel a different sense of nostalgia because there's songs like "Story of My Life." Who doesn't still listen to the original today? In a word … today is the youngest you'll ever be again and Side B slaps you upside the head with that realization.
"Dyslexic Heart" is another one of those kinds of songs, and here Robin Black takes the vocals on the Paul Westerberg hit from the movie Singles. It's just sheer fun … that's all you can say about this cover. It's even better because it's not perfect; it's not about being a technician but playing to the spirit of the original. You'll want to play it every day for a year.
Going back to that Social D song, former TCC guitarist Jamie Delerict is the vocalist on the track from the movie Reality Bites. If you know anything about Delerict, he's the only choice to sing on "Story of My Life." He's got a raw punk edge and you know he LOVES this kind of music; it's the kind of music that made him a musician today. As far as staying as true to the cover as possible, this one might take the cake. It's like Delerict is channeling a still-alive Mike Ness. It's rowdy, it has a sneer pasted to it, and it makes you want to guzzle whiskey and pick a fight you know you can't win.
Going from that cover to The Gin Blossoms "Till I Hear It From You" is a pretty stark transition. Where barbed-wire lyrics were flung at you seconds ago, it's, well … The Gin Blossoms. That song was in the movie Empire Records. Tom Wardle has a welcoming and smooth delivery, and sings with aplomb, albeit a couple times the higher notes sound a tad strained.
The last cover is "Two Days in February" by the Goo Goo Dolls, taken from the movie Freddy's Dead—The Final Nightmare. When it starts, you wonder if this is a cover or the original, because Paul Miro sounds crazy close to John Rzeznik's vocal style. Just another great cover on a fun as hell release.
Only thing that could make this album better is if Lane took a song from 1986's horror movie Trick Or Treat soundtrack by Fastway and remade one of those songs.
Genre: Rock
Band:
Rob Lane (bass, vocals) and over 30 more musicians
Tracklisting:
Side A—The 1980s
1. Time Runs Wild
2. Melt With You
3. Mind Over Matter
4. Don't You (Forget About Me)
5. Two Heads Are Better Than One
Side B—The 1990s
1. If You Don't Love Me (I'll Kill Myself)
2. Dyslexic Heart
3. Story of My Life
4. Til I Hear It From You
5. Two Days in February
Online: http://www.straighttovideo.bigcartel.com/
Hardrock Haven rating: 8.4/10