by Deb Rao
– Senior Columnist —
April 26, 2015 at Vamp'd in Las Vegas, NV. —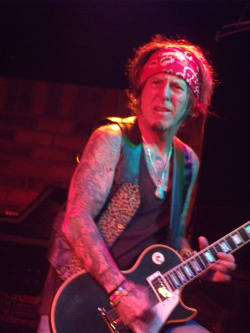 Guitar virtuoso Tracii Guns brought his band Gunzo to Vamp'd on April 26. The band features Tracii Guns on guitar, Rudy Sarzo on bass, and Keith St. John on vocals, and Shane Fitzgibbons on drums. Gunzo is a celebration of music that these Veteran band members have performed in.
Opening with "Rip And Tide," Gunzo were ready to rock the house. Tracii has a definite Punk-rock guitar style that helped launch the Glam/Punk rock scene heyday on Sunset Strip. The band has so many great players that include bass player Rudy Sarzo who is a class act and great showman.
The set included many L.A. Guns hits including "Over The Edge" and "Sex Action." Vocalist Keith St. John is has an amazing vocal range. The dynamic singer will also be taking over Vegas performing with Raiding The Rock Vault on May 2 and May 3 at The Tropicana.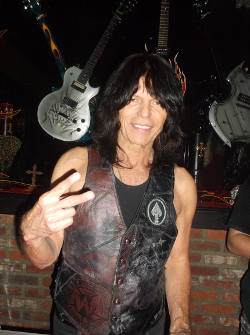 Other highlights of the set included the Whitesnake hit, "Fool For Your Loving." As I mentioned earlier Gunzo is a celebration of music not only of these band members but the members who are no longer with us. A somber but poignant moment occurred in the set when the band paid tribute to the late Ronnie James Dio with the song "Rainbow In The Dark." I had the opportunity to see Rudy perform with Ronnie in Dio. Those memories I will always treasure.
You never know who will show up in Vegas onstage. Tonight was no exception at Vamp'd when Phil Lewis, the voice of L.A. Guns stepped onstage with Tracii to perform "Ballad Of Jayne." This was a great moment indeed. L.A. Guns has so many great hits. It was great to see Phil and Tracii perform together again for this impromtu moment. Phil was also reunited with Rudy Sarzo. Phil's other band Girl toured with Blizzard Of Ozz and Rudy many years ago.
For over an hour it was great to turn back the hands of times to listen to these great hits. It goes to show a good song will outlast the hands of time.
Special thank you to Rudy Sarzo and Keith St. John for making this review possible.
Official websites:
www.facebook.com/officialrudysarzo
www.facebook.com/traciiguns
www.keithstjohn.com
www.twitter.com/keithstjohn