A Light in the Black (A Tribute to Ronnie James Dio)
by Justin Gaines
– Senior Columnist —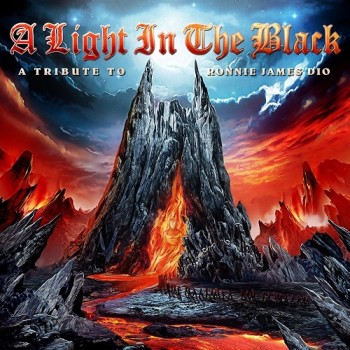 Because you're just not a proper metal label until you've done a Dio tribute album, Massacre Records has served up A Light in the Black: A Tribute to Ronnie James Dio. Yes, another Dio tribute album, this one arriving around the same time as the fifth anniversary of the Metal icon's death. Massacre's offering features 20 songs performed by their stable of Heavy and Power Metal bands, including Crystal Ball, Messenger, Gun Barrell, Gloryful, The Order, Metal Inquisitor, Circle of Silence, Burden of Grief, Love.Might.Kill, Rebellion, Iron Fate and Wizard.
Honestly, the Metal world really didn't need yet another Dio tribute album, and no one has ever managed to top Nuclear Blast's 2000 tribute Holy Dio, but Dio covers are always interesting and there are some good bands on this collection. For the most part though, these are basic, workmanlike cover versions of the well-known Rainbow, Black Sabbath and Dio songs. All enjoyable, but precious few that are really remarkable. Burden of Grief's spin on "Neon Knights" is the most interesting, if for no other reason than their Melodic Death Metal style is such a departure from the original. Love.Might.Kill turned in a couple of better than average performances. On the second half of the set, both Iron Fate and Wizard stand out.
We're five years past the death of Ronnie James Dio, and in that time we've seen tribute albums, live albums and untold bits of memorabilia. It's going to take something special to break through the fatigue that a lot of fans have, and A Light in the Black probably doesn't cut it. The lack of "A-listers" and the relatively unremarkable cover songs make this a set that's really only going to interest the most die-hard Dio fans or serious fans of the bands involved. It's not a bad collection by any means; it's just not a really necessary one either.
Genre: Heavy Metal
Track Listing:
1. Crystal Ball: Sacred Heart
2. Messenger: Kill the King
3. Gun Barrell: Evil Eyes
4. Gloryful: Heavy Metal Will Never Die
5. The Order: I Could Have Been a Dreamer
6. Metal Inquisitor: King of Rock n' Roll
7. Circle of Silence: One Night in the City
8. Burden of Grief: Neon Knights
9. Love.Might.Kill: Stand Up and Shout
10. Rebellion: I
11. Iron Fate: Light in the Black
12. Messenger: Don't Talk to Strangers
13. Crystal Ball: The Sign of the Southern Cross
14. Love.Might.Kill: Hungry for Heaven
15. The Order: The Last in Line
16. Gun Barrell: Voodoo
17. Circle of Silence: Time Machine
18. Rebellion: Kill the King
19. Gloryful: Holy Diver
20. Wizard: Caught in the Act
Label: Massacre Records
Hardrock Haven Rating: 6/10