by Steve Patrick
– Senior Columnist —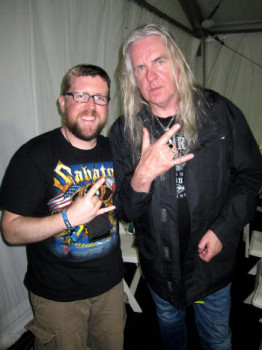 Saturday, May 16th at Rock on the Range 2015 was the day when fans of old school British Heavy Metal should have been in heaven. Not only were Judas Priest the headlining performers on the main stage, but metal legends Saxon also played a brief, but powerful set halfway through the day.
Frontman Biff Byford took a few minutes to sit with Hardrock Haven to discuss the current state of all things Saxon. Byford talked about what it was like trying to shove almost 40 years of their career into a criminally brief 30 minute set, how ROTR stacks up to European festivals, the challenge of writing quality material decades into Saxon's career, and details on Saxon's upcoming 21st studio album Battering Ram.
::: Listen to the Interview :::
For more information, please visit www.saxon747.com.