by Steve Patrick
– Senior Columnist —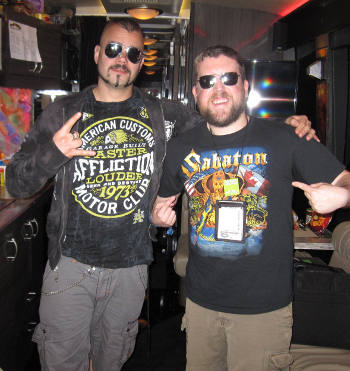 Swedish metallers Sabaton have played the United States numerous times over the last few years usually paired up with some of their European contemporaries, however, rarely are they presented with a challenge like playing in front of an American rock radio festival crowd like they did at Rock on the Range 2015.
Sabaton played the Ernie Ball Stage early in the afternoon on Saturday, May 16th, and got the crowd jumping and singing along despite the dreary weather. While most in the crowd were not familiar with the band going into their set, the vast majority of the audience walked away Sabaton fans for life.
Just before they took the stage, frontman Joakim Brodén took some time to sit with Hardrock Haven to discuss the band's recent reissue of their new studio album Heroes. The re-release comes with a bonus live set recorded on the bands' own Sabaton Cruise. In the conversation, Brodén talked about his habit of bringing children from the audience on-stage with the band, whether or not he misses playing keyboard in the live setting, and his thoughts on playing intimate venues vs. festival gigs.
Brodén gave his honest opinion of his former bandmates' music from their new band Civil War ("When they step out of the Sabaton forumula they're really good, but some of the stuff was pretty much in the realm of what Sabaton is doing.") The mohawked singer even regaled this interviewer with a story about a "magical" prank that Sabaton pulled on their recent tourmates Nightwish.
::: Listen to the Interview :::
For more information, please visit www.sabaton.net.