Scott Holiday and Dave Beste of Rival Sons
by Steve Patrick
– Senior Columnist —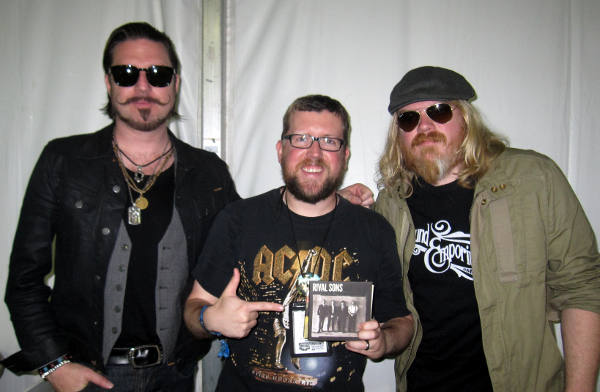 It seems that no modern rock band receives more hype and praise than Rival Sons. All of that attention is not only valid, but it's been earned since their 2009 inception by doing things the old fashioned way: putting out great records and touring the hell out of them.
A fledgling Rival Sons played Rock on the Range 2012 on the Jägermeister stage while supporting their 2011 album Pressure & Time. Now the band returned to ROTR 2015 and had a spot on the mid-range Ernie Ball stage. There's no doubt that if the band returns for a third go at ROTR then Rival Sons will have a spot on the main stage.
Guitarist Scott Holiday and bass player Dave Beste spoke with Hardrock Haven about what it's like playing a large scale festival like ROTR. Both gentlemen talked about the band's most recent studio album Great Western Valkyrie and whatever else came up in conversation.
Highlights of the chat include Holiday and Beste trying to articulate what it's like to have Jimmy Page be a vocal fan of their band and how Rival Sons were hand-selected to open for Deep Purple in Europe later this year.
::: Listen to the Interview :::
For more information, please visit www.rivalsons.com.