by Alexandra Mrozowska
– Senior Columnist —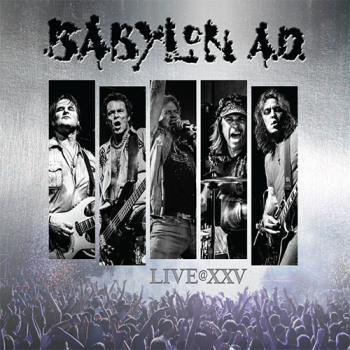 To age gracefully is to embrace both the past and the future, and this rule – as it turns out – applies to the music bands as well. Every concert attendee knows the pain of going through a set list of band's newly recorded songs which are miles apart from their classic style… luckily for those craving for nostalgia-driven journeys back, there are bands who are willing to reach out to their past and who do it with style – one of them being the Frisco-based five-piece Babylon A.D. Twenty five years ago they were an up-and-coming Hard Rock act, enjoying the minor success of their debut album. Now, quarter a century older, they not only return to the stages worldwide but also release a live album entitled simply Live@XXV.
Released in celebration of the 25th anniversary of the group's self-titled debut, the track list of Live@XXV is mostly – but not entirely – based on the mentioned album. Commemorative dimension to it aside, this fact remains quite a wise move anyway. Out of all studio albums released by Derek Davis and the pack., it's Babylon A.D. that's spawned the band's most recognizable songs – "Kid Goes Wild," "Hammer Swings Down" or "Bang Go The Bells." The gritty Sleaze Rock anthem "Back In Babylon" was included on the very same album too, here on Live@XXV serving as an excellent opener. Having thus started in an upbeat, feisty manner, the band continues their retrospective journey twenty years back with "Hammer Swings Down" and "Shot Of Love." And even though it's been quite a while since the Headbanger's Ball era, time's had hardly any effect on Babylon A.D., both tracks having the same rough, gritty vibe to them the 1989 originals had.
It's no more the '80s on the band's time machine as "Sinking In The Sand" hits, the only representative of 2000's album American Blitzkrieg but not a drastic shift style-wise. However, guessing by the crowd's reaction, it's still more about the late '80s and early '90s throwbacks rather than anything else at the Babylon A.D. gig, as the band continues the flashback on their early days with "Bang Go The Bells," "Maryanne" and "Bad Blood." "Love Blind" that goes next is, however, a whole different story as this particular track was one of four lost-to-be-found gems that resurfaced only on the group's 2014 EP Lost Sessions/Fresno, CA 93. Here it's unearthed once again for the sake of the live show, a bit feistier and more straightforward sound-wise than it was in its original studio version – and surely a nice surprise for the fans familiar with the band's most recent release.
A bluesy, semi-acoustic "Sally Danced" precedes a certain Zippo moment as there's hardly any image the live rendition of "Desperate" could have brought to mind other than a sea of cigarette lighters. After this soaring piece of balladry, next goes another staple in the band's catalog – "Kid Goes Wild." And if this Hard Rock anthem alone didn't convince the audience it's high time they engaged in some furious fist-pumping and head-banging, it must have been the two final tracks that did the trick. Both are cover versions – so if you ever wondered how Montrose's "Rock The Nation" or UFO's "Lights Out" (here credited as "Lights Out London") would have sounded if infused with a generous dose of '80s Sleaze Metal, here goes the answer.
Live albums are about capturing the flow of energy between the band and the audience and inscribing it further on record more than anything else. In this respect, Live@XXV is more than a nostalgia-driven release by one of the bands we consider a swan song of '80s Hard Rock. It's rough, raw and dynamic and a real testimony to what Babylon A.D. is now – a mature Hard Rock outfit aware of its roots – rather than just a retrospective glance over the band's early days. One can only hope that if Derek Davis enters the studio with his bandmates anytime soon, the result of the recordings will capture as much of band's energy as Live@XXV does.
Genre: Hard Rock
Band:
Derek Davis – lead vocals, acoustic guitar
Dan De LaRosa – guitars
Ron Freschi – guitars, vocals
James Pacheco – drums, percussion
Robb Reid – bass guitar, vocals
Track List:
1. Back In Babylon
2. Hammer Swings Down
3. Shot Of Love
4. Sinking In The Sand
5. Bang Go The Bells
6. Maryanne
7. Bad Blood
8. Love Blind
9. Sally Danced
10. Desperate
11. Kid Goes Wild
12. Rock The Nation (Montrose cover)
13. Lights Out London (UFO cover)
Label: Apocalypse Records
Website: https://www.facebook.com/Babylonadband
Hardrock Haven rating: 8.5/10