Degreed | Dead But Not Forgotten
by Justin Gaines
– Senior Columnist —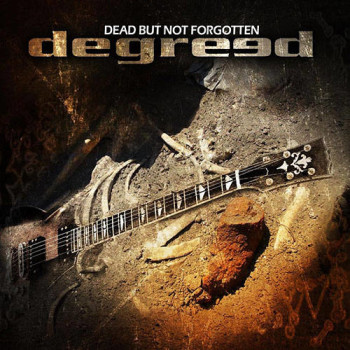 Swedish melodic hard rockers Degreed are back with a new album, their third to date, titled Dead But Not Forgotten. Degreed of course features the vocal (and bass) talents of Swedish Idol finalist Robin Ericsson alongside guitarist Daniel Johansson, keyboardist Mikael Jansson and drummer Mats Ericsson.
Degreed's sound is tough to pin down. If pop is on one end of the spectrum and heavy metal is on the other, then Degreed moves freely between those two extremes, often within the same song. This is melodic rock with a hard rocking backbone and a strong pop sensibility. Degreed is one of the only bands that will make you stop and say "wait, is this a Pretty Maids song?," which is high praise. Other points of comparison are White Widdow and 7th Heaven.
With Dead But Not Forgotten, Degreed has perfected their unique brand of melodic rock. The songs have an irresistible mix of steady rhythms, catchy hooks, great vocal melodies, and a poppy keyboard sound that really has no right to be as dancy and infectious as it is and still work so well. Robin Ericcson turns in a fantastic vocal performance, going from a smooth, steady midrange to a more aggressive metal style with ease (and cementing that Pretty Maids comparison in the process).
There are fourteen tracks on Dead But Not Forgotten and you really can't call any of them filler. They're all really well-crafted and well-executed melodic rock songs. "Kill Your Darlings," "Forgive You," "Love Me Love Me Not" and "Shame on Me" are early highlights, and the ridiculously catchy "Firefly" should by all rights be a massive radio hit. Again, Dead But Not Forgotten is a very strong album from start to finish. At some point, every song here is going to become a favorite.
If you're a fan of Melodic Rock at all, you'll want to check this one out. Dead But Not Forgotten is one of the best Melodic Rock albums 2015 has to offer from a band that deserves to have a much higher profile in the melodic rock scene.
Genre: Melodic Rock, Melodic Hard Rock, Melodic Metal
Lineup:
Robin Ericsson (b) (v)
Daniel Johansson (g)
Mikael Jansson (k)
Mats Ericsson (d)
Track Listing:
1. The Scam
2. Face the Fact
3. Madness
4. Shame on Me
5. Better Safe Than Sorry
6. Love Me Love Me Not
7. Drama
8. Kill Your Darlings
9. Touch of Paradise
10. Forgive You
11. Start Again
12. Firefly
13. The Final Ride
14. Turn Around Don't Back Down
Label: Sun Hill Production
Website: www.facebook.com/degreedmusic
Hardrock Haven Rating: 8.75/10