Hardrock Haven Managing Editor and Horror Writer to Hold Book Signing at Poppadox Pub in Sioux Falls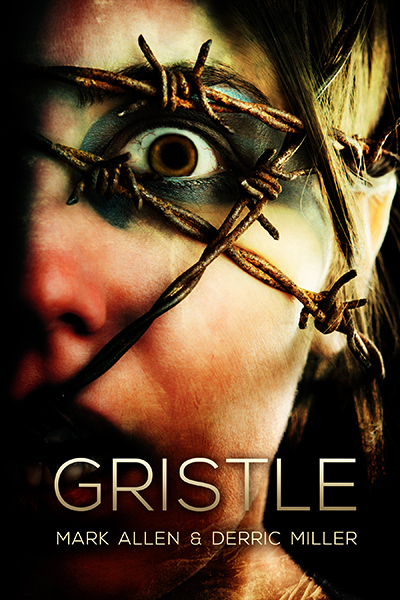 On June 27 at Poppadox Pub, located at 2808 S. Minnesota in Sioux Falls, S.D. born-and-raised local horror writer Derric Miller will be signing two books from 2–4 p.m.
The first book is a brand new novel called Gristle, co-written with author Mark Allen. The second book is a horror anthology called Superhero Monster Hunter: The Good Fight, in which Miller is one of 34 featured writers, with his contribution, "Grooge."
Gristle, released May 9, is a brutal, bloody, briskly-paced novel of redemption, sacrifice, and backwoods horror in the classic tradition of The Hills Have Eyes and Wrong Turn. "Grooge" is a short story based on the idea of what kind of demon could ever make a mother drive into a lake with her kids in tow, trying to drown them, or make a father take out his family and himself. "Grooge" is the darkest story in the anthology.
"The past couple of years have been a whirlwind of writing activity. I was first published in 1995 and for personal reasons, quit writing horror for almost two decades" said Miller. "That all changed around 2012, and I'm never looking back."
Gristle was actually a screenplay by Allen, which reached the semi-finals in a Slamdance Screenplay Competition, subsequently turned into a novel by the duo. Miller took the first crack at the novel, sent it back to Allen, and over the course of the next nine months, they created Gristle. This was the second project by the team of Allen and Miller; they previously released a heavy metal horror novella called Mudslingers in 2013.
"When I decided I needed help turning Gristle into a novel, I knew finding the right man for the job was crucial," said Allen. "Derric Miller was that man. Having worked with him during my stint at Hardrock Haven (www.hardrockhaven.net) and our highly enjoyable experience writing Mudslingers together, I knew we shared similar sensibilities when it comes to horror fiction. This is a guy with an appreciation for a character-driven book that is not skittish about the red stuff … which is exactly what I wanted Gristle to be. And that's exactly what it is, thanks to Miller joining the project."
Both the Emby Press anthology Superhero Monster Hunter: The Good Fight and the novel Gristle will be available in paperback at the book signing. Poppadox is planning horror-themed drink specials; Bloody Marys and Bloody Ceasars are only $3.25 and Redrum drinks $3. Plenty more extras and food specials are in the works.
You can pick up a Kindle version of Gristle today on Amazon by going to http://www.amazon.com/Gristle-Mark-Allen-ebook/dp/B00XFTTK8G. The paperback version can be found here, or at Poppadox on June 27: http://www.amazon.com/Gristle-Mark-Allen/dp/1512231630/.
Miller has interviews lined up at local radio stations and newspapers, so keep your eyes and ears out in the Sioux Falls area for more information about the book signing.