JUDICATOR Joins Divebomb Records, New Album Due In July
JUDICATOR have joined the Divebomb Records roster and will see the release of their third album, At The Expense Of Humanity, on July 17th, 2015.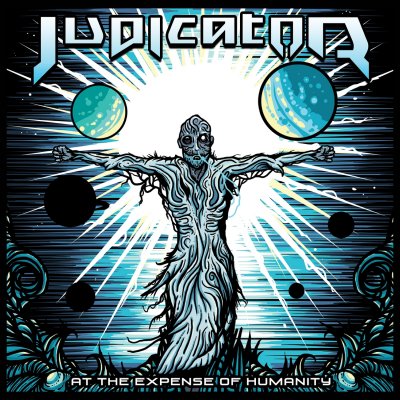 JUDICATOR's third release, At The Expense Of Humanity, is a progressive power metal concept album about singer John Yelland's brother who passed away after battling cancer. The album details the story of John's family, their struggles, and his personal existential and philosophical quandaries that resulted.
Musically, At The Expense Of Humanity, shows the band moving away from the Germanic power metal styles explored on their sophomore effort Sleepy Plessow and plunging into more progressive territories, as well as incorporating other elements they had yet to discover within themselves. At The Expense Of Humanity is a big, bold step for U.S. metal and JUDICATOR exhibits no signs of impeding its momentum now.
For Fans Of: BLIND GUARDIAN, JAG PANZER, QUEENSRYCHE and IRON MAIDEN.
1. A Picture Of Fading Light
2. God's Failures
3. Cannibalistic Mind
4. Coping Mechanism
5. My Fantasy Destroyed
6. Lucid Nightmare
7. The Rain In The Meadow
8. Nemesis/Fratricide
9. Autophagia
10. Life Support
11. At the Expense Of Humanity
12. How Long Can You Live Forever?
13. Enantiodromia
STREAM "COPING MECHANISM" ON BANDCAMP
STREAM "COPING MECHANISM" ON YOUTUBE