by Marija Brettle
– Senior Columnist –
May 10, 2015 at Koko in London, U.K.–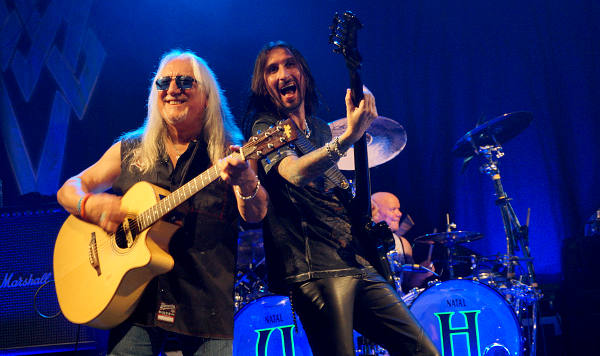 With its outstanding live performances and unique, progressive Hard Rock sound, Uriah Heep often has been referred as one of the greatest Classic Rock bands of the '70s. The band has released some of the most popular and genre-defining music, which has made the group mainstay in the Rock circuit for more than 45 years.
However, my earliest memories of Uriah Heep date way back to the Greek Island of Crete, where the band performed at the Oasis Open-Air Theatre in Iraklion. There and then, I totally was taken aback by the band's masterful performance, energy and love put into its music.
Many years later and with many amazing Heep live shows behind me, here I am, back for the second treat at the London's Koko venue, seeing if the old magic is still there, bringing "Heepsters" to their feet every night, without fail.
Right on time, the Masters of Rock stormed the Koko stage in a typical confident fashion and clearly let everyone know that Uriah Heep has not slowed down a bit. Greeted by an enthusiastic crowd, the band started off very strong with the energetic, fast-paced opener, "Speed Of Sound," followed by the "The Hanging Tree" from its 1977 album Firefly, and that set the tone for an evening of yet another epic show.
Next up, quite a few new songs off of the new album, Outsider were featured, including "The Law" and the title track, "Outsider," as well as "Can't Take That Away" and one of my favorite songs off this album, "One Minute."
The audience cheered on the new tunes with as much enthusiasm as they did on classics, such as "Sunrise," "The Magician's Birthday,"' "What Kind Of God," "July Morning" and its highest-charting single song "Stealin'."
To the delight to its die-hard fans of all ages and in the typical Heep style, the band finished off with the crowd pleaser, "Lady in Black."
Uriah Heep closed the show with the Rock anthems "Gypsy" and "Easy Livin'." Easy living – well, Uriah Heep certainly can do that these days, but, thankfully, it is far from calling it a day. The band will be back for more, in a mighty Heep way.
Set List:
1. Speed of Sound
2. The Hanging Tree
3. The Law
4. The Outsider
5. Sunrise
6. Stealin'
7. The Magician's Birthday
8. What Kind of God
9. One Minute
10. Can't Take That Away
11. July Morning
12. Lady in Black (Joined on stage by support act 'Blurred Vision')
13. Encore:
13. Gypsy
14. Easy Livin'
Live! | Uriah Heep Concert Photo Gallery
Photo appear courtesy of: Andrea Obergfell and Jade Jadranka