by Anabel DFlux
– Senior Photojournalist —
June 20, 2015 at Bar Sinister in Hollywood, CA. —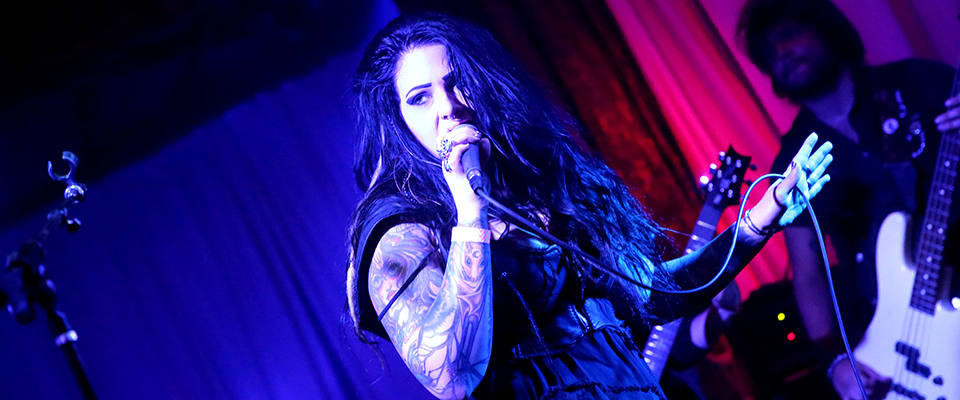 Spawning from the City of Angels, comes Sisters Ov The Blackmoon, a Rock/Metal band with an affinity for the occult. Although this band only has a handful of concerts under their belt, they're proving that you don't have to be a seasoned band to give fans an unforgettable evening. With catchy riffs that draw you in to powerful and edgy vocals, this is a band that is hard to forget.
Opening the evening at Bar Sinister in Hollywood, this dark and decadent venue was a perfect setting for this witchy band, transforming the crowd goers into the band's very own coven. The set ran through songs from the band's new EP entitled "Blood Cauldron", featuring their first single "Haunt." Front woman Sasha Wheatcroft is a force to be reckoned with, bellowing out impressive vocals, with a very strong female presence. Guitarists Dan Schlaich and Andrew Vega often paired up with bassist Jared "Scuds" Anderson on stage, forming an unstoppable trio. Drummer Josh Alves certainly kept the energy going from the back of the stage, with his skill and energy on the drums.
Whether it is due to their passion, or an innate talent brought forth with skill, or maybe even a curse placed on the audience beforehand- Sisters Of The Blackmoon are quickly becoming a crowd favorite in one of the most difficult music industries to thrive in.
Members:
Sasha Wheatcroft – Vocals
Josh Alves – Drums
Andrew Vega – Guitar
Dan Schlaich – Guitar
Jared (Scuds) Anderson – Bass
Live! | Sisters Ov The Blackmoon Photo Gallery
Connect with Sisters Ov The Blackmoon Here:
https://www.facebook.com/thesistersovtheblackmoonband