by Joe Mis
– Senior Columnist —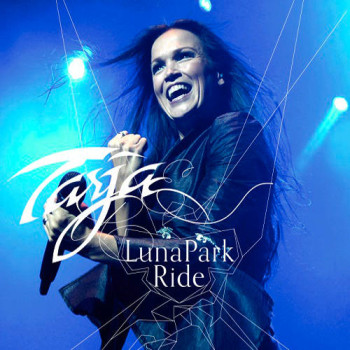 Pioneering Finnish soprano Tarja Turunen has just put the finishing touches on a superb live album entitled Luna Park Ride. For those not familiar with the name, Tarja is one of the most influential female singers in the Symphonic/Operatic Metal genres. She rose to fame as the front person for the groundbreaking Gothic, Symphonic Metal band Nightwish. Now a solo performer, Tarja remains at the forefront of the operatic metal scene.
Luna Park Ride was recorded live during the What Lies Beneath tour at Stadium Luna Park in Buenos Aires, Argentina on 27-March-2011. For a live recording the sound quality is very good. Tarja's vocals (and those of the backup singers) are crisp and understandable, never drowned out by the instruments or the crowd. The bass and keyboards come across strongly, but at times the guitars seem a little thin and the mid-range drums a bit washed out. Considering the age of the original recordings one cannot complain!
Tarja's set list includes cuts from her first two solo albums (2007's My Winter Storm and 2010's What Lies Beneath), a few from her Nightwish days, and a cover tune medley. This is not new material – Luna Park Ride was previously released as part of the limited edition live concert DVD entitled "Act I – Live In Rosario." Now released as an individual album Luna Park Ride also includes a good deal of bonus material, all mixed by veteran Tim Palmer (U2, Pearl Jam, Robert Plant).
Musical highlights include the theatrical performances of Tarja and the band on "My Little Phoneix" and the totally over-the-top "Ciaran's Well," the wonderfully fluid lines of "The Crying Moon," the enthusiastic participation and reaction of the crowd to the epic "I Walk Alone," Tarja's massive vocal performance on "Underneath" and her native language "Signos," and the wonderfully dark and creepy tone of "Little Lies." One of the true highlights is the cover tune medley consisting of Swedish singer Ankie Bagger's 1989 pop tune "Where Were You Last Night", Belinda Carlisle's "Heaven Is A Place On Earth," and the Bon Jovi classic "Livin' On A Prayer."
While not containing recent material, Luna Park Ride is a must have for Tarja fans. The concert is well-recorded and lively, giving listeners an in-depth peek at Tarja's early catalog through dynamic live performances. The nicely done mix brings the talents of the performers to the fore without letting the listener forget that it is a live recording, yet at the same time the crowd is mixed in effectively so their participation never overshadows the music or vocals.
If you've never been able to catch her in concert, Luna Park Ride will give you a good taste of the Tarja experience. Turunen's voice seems to be just as powerful live as in the studio, so if you enjoy operatic metal Tarja's Luna Park Ride will not disappoint!
Genre: Operatic, Gothic Metal
Track Listing:
1. Dark Star
2. My Little Phoenix
3. The Crying Moon
4. I Walk Alone
5. Falling Awake
6. Signos
7. Little Lies
8. Underneath
9. Stargazers
10. Ciaran's Well
11. In for a Kill
12. Where Were You Last Night / Heaven Is a Place on Earth / Livin' on a Prayer (Medley)
13. Die Alive
14. Until My Last Breath
15. Wishmaster
Label: earMusic
Website: http://www.tarjaturunen.com/en/
Hardrock Haven rating: 8 / 10