Barren Earth | On Lonely Towers
by Justin Gaines
– Senior Columnist —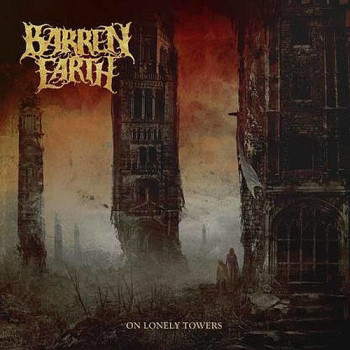 Finnish "all-star" – Progressive, Melodic Death, Doom Metal – band Barren Earth is back with a new album, their third full-length release, titled On Lonely Towers. The band features bassist Olli-Pekka Laine (ex-Amorphis), keyboardist Kasper Martenson (ex-Amorphis), guitarists Sami Yli-Sirnio (Kreator) and Janne Perttila (Moonsorrow) and drummer Marko Tarvonen (Moonsorrow). They are joined for the first time by new vocalist Jon Aldara.
Over the last couple of albums, Barren Earth has quietly stepped forward to fill the void left when Opeth decided to move to a more purely Progressive Rock sound. Barren Earth has the mix of Progressive technicality and Death Metal heaviness and aggression that Opeth did so well, and they add both melodic and doom elements to the mix. The result is part Opeth, part Enslaved, part Amorphis, part Daylight Dies, and all amazing.
On Lonely Towers is about as good as this kind of music gets. The musicianship and progressive song structures are completely satisfying on an intellectual level, while the heaviness and atmospheric keyboards give it an emotional resonance (not to mention bringing to mind the classic Amorphis sound). It's just this massive, heavy monster of an album. Aldara proves to be the perfect fit for Barren Earth's sound, delivering emotional clean vocals and a very powerful death metal growl. His voice is strikingly similar to Dan Swano's, which brings to mind (in a good way) Witherscape.
"Howl" and "Frozen Processions" start the album on a strong, aggressive note, but it's the two 11-minute epics – "On Lonely Towers" and "The Vault" – that really define On Lonely Towers. Both songs perfectly demonstrate the band's progressive chops as well as their ability to craft truly epic metal songs.
If you're a fan of the classic Opeth sound, or any combination of Progressive Metal, Death Metal and Doom Metal, On Lonely Towers may just be your new favorite album. Barren Earth is especially going to appeal to fans of Enslaved, Witherscape, Amorphis, Daylight Dies and Novembers Doom.
Edition Notes: The limited CD version of On Lonely Towers comes in a digipack and features the bonus track "Sirens of Oblivion."
Genre: Progressive Metal, Death Metal, Doom Metal
Lineup:
Olli-Pekka Laine (b)
Jon Aldara (v)
Kasper Martenson (k)
Sami Yli-Sirnio (g)
Janne Perttila (g)
Marko Tarvonen (d)
Track Listing:
1. From the Depths of Spring
2. Howl
3. Frozen Processions
4. A Shapeless Derelict
5. Set Alight
6. On Lonely Towers
7. Chaos, the Songs Within
8. The Vault
Label: Century Media
Website: www.barrenearth.com
Hardrock Haven Rating: 9/10