Edge Of Paradise | Immortal Waltz
by Joe Mis
– Senior Columnist —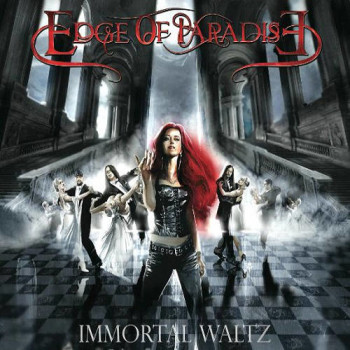 American rockers Edge Of Paradise have just released a new full-length album entitled Immortal Waltz. Fans of the band will be immediately at home since the lineup fronted by dynamic vocalist Margarita Monet and guitar wizard Dave Bates has remained stable, giving the band a chance to mature under the guidance of veteran producer Michael Wagener.
Immortal Waltz follows the band's previous EP Perfect Shade of Black and 2011 debut album Mask, and demonstrates growth and maturity in both songwriting and performance. Formed by Monet and Bates, Edge Of Paradise earned support from a number of Rock icons. Their debut album featured well respected bassist Tony Franklin (Blue Murder, The Firm) and drummer Gregg Bissonette (David Lee Roth Band, Joe Satriani, Steve Vai), and was co-written by Robin McAuley. After the debut recording, they added bassist Nick Ericson and drummer John Chominsky to their regular lineup and have been together since – and it shows. After a year of gigs and touring, the band settled down with Michael Wagener to record what would become Immortal Waltz.
Edge Of Paradise continues down their own musical path, blending modern melodic metal with hints of Alternative, Orchestral and Industrial Metal. Some of the music will be familiar to fans of the band. "Perfect Shade of Black," "In A Dream," "Break Away," and "Ghost" were all on the band's EP. Monet and Bates are the band's primary songwriters, and they support each others talents well. Monet sings as a breathy, innocent little girl and then suddenly becomes a roaring lioness, while Bates delivers very catchy hooks and memorable riffs without dominating the music, and his solos are the things of guitar heroes.
"Perfect Shade of Black" opens opens with subdued keyboards before Monet's vocals explode onto the scene. Margarita hovers around the upper end of her range and sings with all her passion and strength. Bates delivers a powerful break but keeps his guitars subdued during the balance of the track, allowing Ericson and Chominsky to provide power to the song. "It's My Showtime" has a bit of a theatrical feel to it thanks to campy vocals and a bouncy rhythm line, topped off with a short but sweet guitar solo. "Immortal Waltz" is an interesting theatrical metal piece with just enough camp and vamp to make it something that Tim Burton might put in his next film. There are a few moments here where Monet seems to push a little too hard and ends up over singing, allowing her voice to thin out. "In A Dream" changes the sound to fiery and passionate. Monet's voice soars over thick power chords and booming bass and drums. She sings softly and clearly over the simple guitars of the verses, but throws it all on the table during the chorus and bridge.
"Rise For The Fallen" has a different sound – a little slow but still heavy, with a strong bass/drum groove that highlights the strong teamwork of Ericson and Chominsky. The ballad-like "Ghost" starts off slow and quiet but builds in power as it evolves, incorporating a number of progressive elements (tone and timing changes, layered keys and vocals) coupled with a neat and tidy guitar solo. "Break Away" is a gritty guitar driven track reminiscent of early Doro/Warlock, but Bates' modern guitar style keeps it fresh. "Goodbye" is a modern rocker with plentiful keyboards and catchy hooks. Chominsky's drums are at their best here. The album wraps with a striking cover of Black Sabbath's "Children Of The Sea." They modernized the song and made it their own, but it is respectful to Dio and the Sabbath guys, and very well done overall – everything clicks here.
The only true disappointment is the simple fact that 4 of the 9 tracks of Immortal Waltz are just pulled from Perfect Shade Of Black seemingly intact. Re-recording or re-mixing of these to give them a noticeable freshening would have been nice for those who already own the EP, or maybe cutting back to one or two while adding more new material…
Edge of Paradise continues to be a band to watch. Smart songwriting, diverse musical styles, and solid delivery makes for a winning combination. Monet's outrageous range and passionate delivery, along with Bates' awesome guitars gives the band a dynamite one-two punch. The strong teamwork and polish added by Ericson and Chominsky complete the picture. Despite the breadth of styles and influences, Edge of Paradise manages to create a unique and intense sound. Overall, Immortal Waltz is a solid release. Recommended for fans of female fronted Rock!
Genre: Melodic Metal
Band:
Margarita Monet (vocals / keyboards)
Dave Bates (guitar)
Nick Ericson (bass)
John Chominsky (drums)
Track Listing:
1. Perfect Shade Of Black
2. It's My Show
3. Immortal Waltz
4. In A Dream
5. Rise For The Fallen
6. Ghost
7. Break Away
8. Goodbye
9. Children Of The Sea (bonus track)
Label: Pure Steel Records
Website: http://www.edgeofparadiseband.com/
Hardrock Haven rating: 7.5 / 10