by Justin Gaines
– Senior Columnist —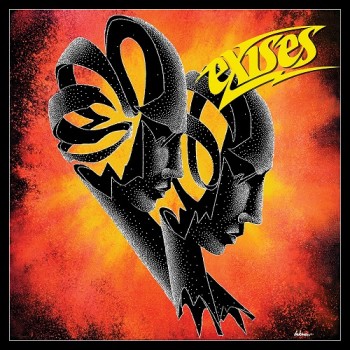 Dutch Heavy Metal band Exises made their debut in 1986 with this self-titled release on the Megaton label. This is a band that ran in the same circles as Picture, Bodine and Highway Chile, but never really emerged from the underground. This, despite having a very compelling sound that touched on the early Power and Progressive Metal scenes.
While most bands in the Dutch Metal scene drew influences from the NWOBHM scene (and understandably so), Exises cites Rush, Van Halen and Yes as their main influences. Not that the Exises debut is some ultra-proggy album. It's still very much a Heavy Metal album; it's just one with a good degree of technicality and a more epic and dramatic atmosphere. There are a lot of similarities to the early Queensryche albums, as well as to Fifth Angel. Vocalist Frank Leurs has a very strong, very powerful voice that's ideal for this kind of music, and it's his vocals that bring to mind bands like Shogun and Icon.
It's a potent mix at work here, and the album as a whole is just an excellent example of the '80s Progressive/Power Metal sound. It does have some highlights though, like the powerful "Fear For the Night" and "Burn the Lights," and even the slower, more sentimental "Stay With Me" has a wicked solo and a strong metal edge.
Unfortunately, the Exises debut was not commercially successful, and it would be a full decade before the band would release a follow-up (1996's Reternity). Even if they didn't make it big, Exises left behind one of the strongest albums the Dutch Heavy Metal scene had to offer. Fans of the classic '80s Heavy Metal sound, particularly the Progressive and Power-oriented bands like Queensryche, Fifth Angel and Crimson Glory, will definitely want to get their hands on this one, especially now that it has been reissued.
Edition Notes: Divebomb's recent reissue of the Exises debut puts this long out of print album back in fans' hands. The album features digitally remastered audio and an expanded booklet featuring vintage photos and a new interview with guitarist Michael Siethoff. There is no bonus material, but just having this underground gem available again is something to be excited about.
Genre: Heavy Metal, Power Metal, Progressive Metal
Lineup:
Frank Leurs (v) (k)
Adri Sleyster (b) (v)
Berend Houter (d)
Michael Siethoff (g)
Track Listing:
1. Fear For the Night
2. Misunderstood
3. Some Sort of Freedom
4. Behind the Wall
5. Burn the Lights
6. Stay With Me
7. Brainstorm
8. Carry On
Label: Divebomb Records
Hardrock Haven Rating: 8.5/10