Hungryheart | Dirty Italian Job
by Alexandra Mrozowska
– Senior Columnist —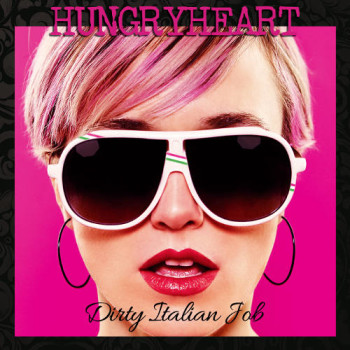 Even if pink's the new black, the deliberately cheesy cover artwork for this album is not exactly a sight for the sore eyes. And still, it's good news to see Hungryheart back in the game, five years after their previous album One Ticket To Paradise saw the light of day – especially if you're a Melodic Rock aficionado. The Italian band around mastermind and guitarist Mario Percudani is back with most of their previous line-up at their posts and another release in their catalog, teasingly entitled Dirty Italian Job. Here and there, a guest keyboardist pops in. In some of the tracks, it's a renowned Hammond organ player Paolo "Apollo" Negri who takes control over the keys, and in other it's Alessandro Del Vecchio (who doesn't really need to be introduced). There's also been a bit of microphone swap in the recording studio between the band members, with Mario Percudani sharing the lead vocals with the band's regular singer Josh Zighetti in two of the tracks ("Nothing But You," "Second Hand Love").
Although much can happen in the span of five years, Hungryheart's trademark Melodic Rock sound apparently isn't susceptible to any drastic revolution. Or – at least – it hasn't undergone such since One Ticket To Paradise. Consequently, Dirty Italian Job is as much about charming melodies, distinctive hooks and solid guitar riffs as its predecessor was. And yet – now the band sounds more mature and somewhat more sophisticated as compared with the contemporary vibe and '80s flavors of their sophomore effort. An evolution in terms of music, if there was any, was a slight drift towards the early '90s, the period which left the '80s Glam Metal excess behind only to give us Melodic Rock excellences incarnate – House Of Lords, Tyketto, Bangalore Choir, etc. And as it turns out, it was all to the good.
Dirty Italian Job doesn't disappoint all along the way, from uptempo catchy tracks ("There Is A Reason For Everything," "Right Now," "Shoreline," "Rock Steady") and melodic midtempos reminiscent of bands such as early Harem Scarem ("All Over Again") to blistering slowdown moments ("Nothing But You," "You Can Run"). A guitar passage in groovy AOR-ish piece "Back To Real Life" has slightly – but only slightly – Zeppelin-esque feel to it, while the dynamic "Devil's Got My Number" or somber "Second Hand Love" season the group's trademark sound with different shades and flavors of Blues. The group's take on Eric Clapton's 1989 Blues/Rock classic "Bad Love" is a fine one too, not really far from the fiery original.
But the record's real highlight is perhaps "Time For The Letting Go" – its groovy, feisty verses delivered over a pounding bass sound and the restrained guitar riff only to explode in an unashamedly melodic chorus. It has the band reaching band even further in the history of rock, with the '70s vintage flavors all over the track. And such journeys in time are certainly something Mario Percudani and the gang should have done much more frequently.
With the classic Melodic Hard Rock vibe to it, Dirty Italian Job, Hungryheart achieved what many of genre's '80s and '90s representatives now strive for to no result and growing frustration of their fanbase. And it's because they know well how to utilize the genre's musical past – taking the best and forgetting the rest, if one wanted to paraphrase Styx. A collection of songs that forms the group's third album is more in line with Trixter, Tyketto or Mitch Malloy's classic albums than overproduced rock releases of the contemporary era. Apparently unwilling to go for unnecessary experiments with their sound, these talented Italians still choose to blend strong melodies, solid songwriting and a bit of six string fuel all together, their buzzing mixture called Dirty Italian Job being simply a job well done. Much recommended.
Genre: Melodic Hard Rock, AOR
Band:
Josh Zighetti: lead & backing vocals
Mario Percudani: guitars, backing vocals; lead vocals (tracks 04, 07)
Stefano Scola: bass
Paolo Botteschi: drums
Additional musicians:
Paolo Apollo Negri: keyboards (tracks 02, 07, 10)
Alessandro Del Vecchio: keyboards (tracks 01, 04, 06, 08)
Giulio Garghentini: backing vocals (track 08)
Tracklist:
1. There Is A Reason For Everything
2. Back To The Real Life
3. Shoreline
4. Nothing But You
5. Devil's Got My Number
6. Bad Love
7. Second Hand Love
8. Time For The Letting Go
9. Right Now
10. You Can Run
11. Rock Steady
12. All Over Again
Label: Tanzan Music
Website: https://www.facebook.com/hungryheartband
Hardrock Haven rating: 9/10