Mario Percudani of Hungryheart
by Alexandra Mrozowska
– Senior Columnist —
Five years ago Melodic Hard Rock aficionados were awed by their second album One Ticket To Paradise; now after five long years of keeping their fingers crossed they can finally breathe a sigh of relief. 2015 has one of the finest representatives of their genre, the Italian band Hungryheart returning with their third record. However, Dirty Italian Job was only one of many topics we discussed with Mario Percudani, not only the band's mastermind and guitar player but also a renowned sideman and producer.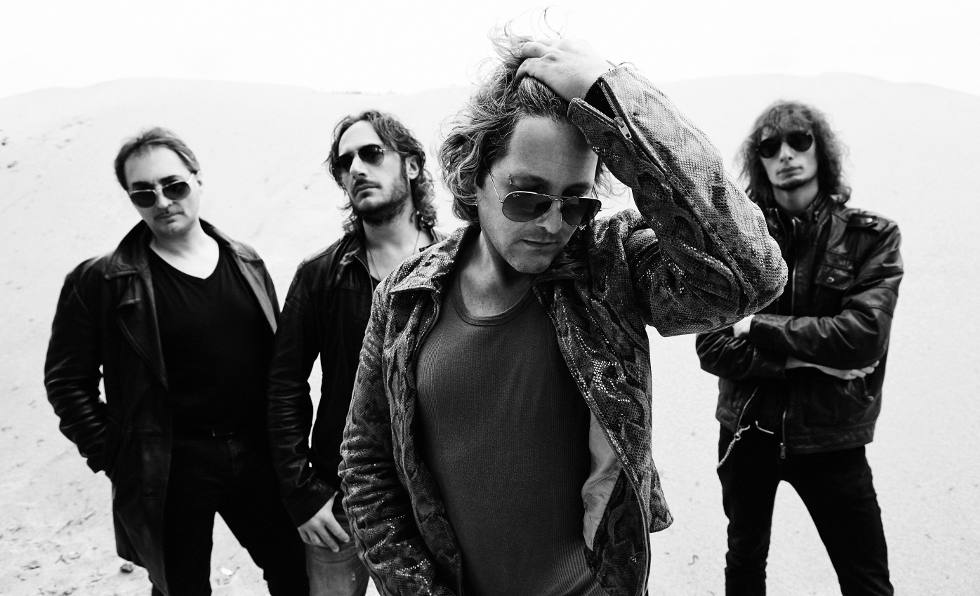 Hardrock Haven: First of all, why did it take you so long to release a follow-up to 2010's One Ticket To Paradise?
Mario Percudani: Hi Alexandra and HardrockHaven! It's been five years of numerous collaborations, albums and live shows. Much as we would have loved to release a new album a couple of years ago, we know now this is the right time to make a more mature album – one that is able to reveal exactly what Hungryheart are today. For sure we won't wait other five years to release the next one!
Hardrock Haven: My personal thoughts on the album is that it gravitates towards early '90s Melodic Rock rather than pure '80s. Were the inspirations any different this time around?
Mario Percudani: We love both '80s and '90s Melodic Rock and we grew up listening to that kind of music – the great bands of that era are still our main inspiration. For sure our debut album had more '80s influences compared to Dirty Italian Job.
Hardrock Haven: For a seasoned musician that you are, was working on Hungryheart's newest album any different than previously? What did the songwriting process look like?
Mario Percudani: First of all Dirty Italian Job has been created and produced in my studio from scratch, so I think that having the complete control of every single step is the main difference. And it's great to listen to it and realize that it's exactly what we had in our mind. I couldn't live without writing songs. I write and record ideas every day, always trying to find inspirations from every single thing around me and everything that happens around me. Josh [Zighetti, Hungryheart's lead singer] is a great companion in this work. We grew up in the same small town, we know each other very well – we're brothers with the same musical background. It's a great thing! But the songs take shape by playing and rehearsing them, with the privilege of working with two great friends and musicians – like Paolo and Stefano. Sharing creativity is one of the greatest ways to become a better artist and musician day by day.
Hardrock Haven: How do you compare Dirty Italian Job to Hungryheart's previous albums? Is it more of a continuation, or an evolution?
Mario Percudani: We can feel a kind of evolution from the first self-titled album and the second album One Ticket To Paradise to this one. Not just for the songs themselves but for the production too. But I also feel that all our three albums are bound together by our individual style.
Hardrock Haven: One substantial difference is Stefano Scola replacing Steve Lozzi on bass guitar. Any comments upon this line-up change?
Mario Percudani: Many journalists said that we've made a step ahead with this album and one of the main reasons is that the relationship among all the band members is great. Our new bass player Stefano Scola really contributed to this new step up being made. He's an amazing musician – so is the drummer Paolo Botteschi – and Stefano doesn't seem like he's a new entry at all!
Hardrock Haven: Guest players on the album are renowned keyboardists Paolo 'Apollo' Negri and Alessandro Del Vecchio. Did you ever consider having a regular keyboard player joining Hungryheart?
Mario Percudani: Differently to the current Melodic Hard Rock/AOR bands, keyboards are not a leading role in our sound – but we use to have some guests to enrich some of our songs in the studio. Both Paolo "Apollo" Negri and Alessandro Del Vecchio are friends and they did a great job on this new album. And yes, sometimes we think about having a keyboard player for our live shows… only time will tell!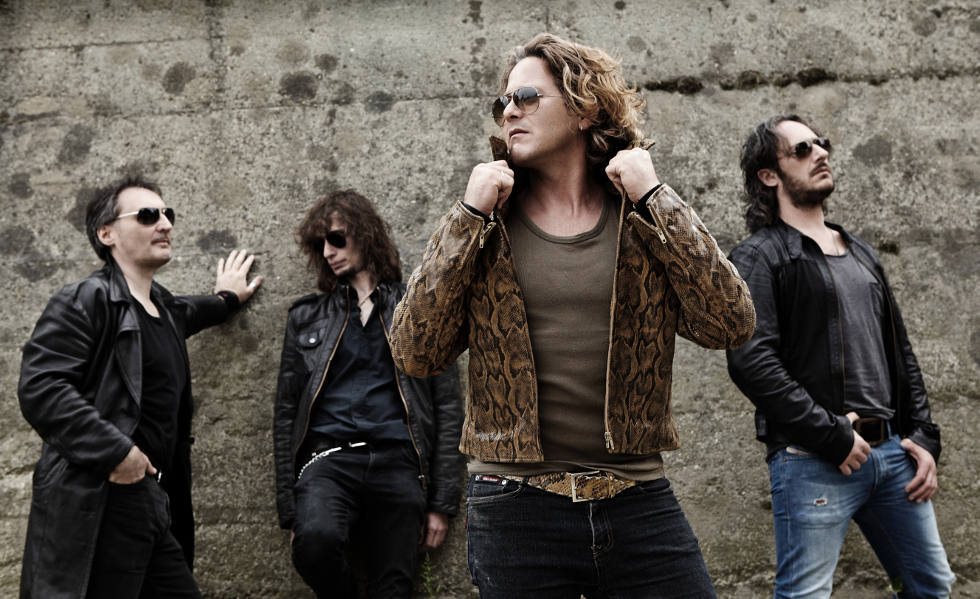 Hardrock Haven: Apart from Paolo and Alessandro, also Giulio Garghentini contributed to the album, providing background vocals in one of the tracks. What do you think all these guest contributions brought into the band other than signs of camaraderie?
Mario Percudani: They all contributed to the album with their style and individuality. Paolo with his '70s-infused approach and Alessandro with his more melodic mood. Giulio Garghentini did a great vocal performance in the backing vocals of the song "Time For The Letting Go" and he helped us to reach the sound we had in mind.
Hardrock Haven: In two of the tracks on Dirty Italian Job, you share lead vocals with Josh. Not for the first time, though – for example, you've also sung lead on your solo album New Day (2010). What do you think is the difference between expressing yourself as a singer and as a guitar player?
Mario Percudani: I think there's no difference. I started both playing guitar and singing when I was very young. I've been singing all my life and I always write songs singing with my acoustic guitar. My voice is different from Josh's, as you can better notice listening to my solo album, but that's why we like to split the vocals in some songs on every album. By the way, we also tour across Italy playing unplugged shows and singing together.
Hardrock Haven: Which songs off the new album are your favorites and why?
Mario Percudani: "Shoreline, "Nothing But You" and "You Can Run" because I wrote them at the particular important moments of my life as well as "Devil's Got My Number" and "Second Hand Love" because of their melodic bluesy style.
Hardrock Haven: Guessing by the way things were done with the last two Hungryheart albums, you prefer to work independently from other producers and big record labels. What are the advantages and, perhaps, disadvantages of self-producing and self-releasing an album?
Mario Percudani: I usually prefer to have the control of the albums I produce, but I often work with other producers and labels. For sure one of the main advantages of working with a big label is a bigger promotion budget.
Hardrock Haven: However, you've trusted a person from the outside as for the album's mastering. What's prompted the choice of Brad Vance – was it his rich resume or perhaps, some other reasons?
Mario Percudani: Let me take the opportunity in this interview to say thank you to Brad Vance for the great work mastering Dirty Italian Job. He worked with great bands like Foreigner, Mr. Big, Vanilla Fudge and many others… I listened to some of his works and then I decided to contact him. I really hope to have the chance to work with him again in the future.
Hardrock Haven: Dirty Italian Job is available via various streaming services – Spotify and Deezer, to name just two of them. Many artists feel they're being exploited by these services; what's your view on this?
Mario Percudani: This is the future of music I guess. I'm still one of those listeners who buy music and CDs and try to discover every secret of an album by reading the credits and the lyrics… but as a musician I know that most of people nowadays listen to your music and discover your songs via streaming services. The real problem is how little money those services pay to the artists. You can earn some money only if you are a big act I guess… and this is a big problem for the independent music and the little record labels.
Hardrock Haven: What kind of promotion do you think is the most valuable to the band now? Is it still about printed magazines and radio stations, or perhaps the social media and independent reviewers, bloggers etc?
Mario Percudani: We're trying to promote Dirty Italian Job through all kinds of media. From the printed magazines and the FM radios to the webzines and webradios. Most of these media are really helping us to spread the word. Which is twice as important now because we're planning shows around Europe next autumn!
Hardrock Haven: Back to your label Tanzan Music – another album that's been out recently is the one entitled Great Lefty: Live Forever. Tribute to Tony Iommi, Godfather Of Metal. Could you please tell us more about the details of this tribute release?
Mario Percudani: We released this album last may and it was great to see Tony Iommi himself talking about it via his websites and social networks. Rosita Piergiorgi and Tony Iommi Supporters did an amazing job putting together musicians from all over the world for this compilation. It features artists like Tony Martin, Vinny Appice, Hugh McDonald, Berry Goudreau (Boston), Marc Boals and others….. the profits will be destined to Macmillan Cancer Support UK. It's a great honor to be a part of this album.
Hardrock Haven: Talking about influential guitarists in the history of rock – who had the biggest impact on your style?
Mario Percudani: I could mention so many names… For sure the greatest influences of mine are Eddie Van Halen, Dann Huff and Steve Lukather, but also legends like Hendrix and Jimmy Page had a great impact on my style.
Hardrock Haven: Are you up to anything else other than Hungryheart? Any side projects or collaborations worth mentioning?
Mario Percudani: I played guitars on the Kelly Keeling's new album Mind Radio and I'm now working on Ted Poley's new album. As a producer, among others, I'm working on the second album of the Southern Rock band Smokey Fingers.
Hardrock Haven: Is there anything you'd like to add in the end?
Mario Percudani: Thank you for this time together to all of you at Hardrock Haven. And thanks to all the readers… I hope to see you on the road very soon! Stay tuned!
Visit the band online: http://www.hungryheartofficial.com/en/