Iron Savior | Live at the Final Frontier
by Justin Gaines
– Senior Columnist —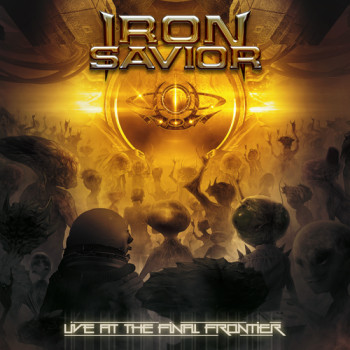 Long-running German Power Metal band Iron Savior is certainly delivering the goods this year. No, not with a new studio album (besides, it's only been a year since they released their excellent Rise of the Hero), but with the re-recording of their Megatropolis album and this, their first-ever live set. Live at the Final Frontier is a deluxe, 3-disc set documenting the band's performance earlier this year in Hamburg. The physical set, which comes in a gatefold digipack, features the full concert on one DVD, and the audio portion spread across two CDs.
Live at the Final Frontier does a fantastic job at capturing the band's power and incredible live energy. With some bands, their live performances never quite meet the quality of their studio albums. That is definitely not the case with Iron Savior. If anything Piet Sielck sounds more vibrant and powerful here. The band's nearly 90-minute set hits all the expected highlights from their studio albums, plus a few surprises like the "Iron Watcher" medley and a cover of the Judas Priest classic "Breaking the Law." The band sounds great throughout the performance, and they're clearly feeding off the energy of a very enthusiastic audience. Just watch them go nuts when the band kicks into "Last Hero." "Break the Curse," "R U Ready" and "Heavy Metal Never Dies" are just as much fun.
Even if you're only so-so on live releases, this one is pretty spectacular. If you're any kind of Iron Savior fan, you should consider Live at the Final Frontier a must-have release. It could also make a good primer – an Iron Savior 101 – for Power Metal fans who haven't yet discovered this classic band. Live at the Final Frontier is available in MP3 format, but the DVD that comes with the physical release is so impressive you really need to get that version to truly experience this concert.
Genre: Power Metal
Lineup:
Piet Sielck (v) (g)
Joachim Kustner (g)
Jan-Soren Eckert (b) (v)
Thomas Nack (d)
Track Listing:
1. Ascendance (Intro)
2. Last Hero
3. Starlight
4. The Savior
5. Revenge of the Bride
6. Break the Curse
7. Burning Heart
8. Mind Over Matter
9. Hall of the Heroes
10. R U Ready
11. Condition Red
12. I've Been to Hell
13. Heavy Metal Never Dies
14. Coming Home
15. Iron Watcher (medley)
16. Atlantis Falling
17. Breaking the Law
Label: AFM Records
Website: www.iron-savior.com
Hardrock Haven Rating: 8.5/10