J. D. Overdrive | The Kindest Of Deaths
by Alexandra Mrozowska
– Senior Columnist —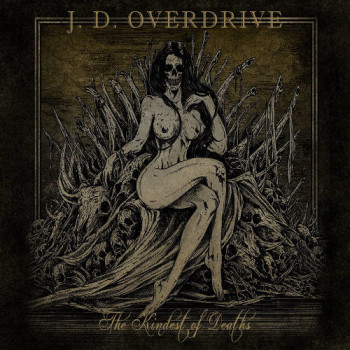 In the 1970s, a new subgenre of music – called Southern Rock – was born out of the Allman brothers' bluesy vibe and Skynyrd's Dixie pride. Little did they know back then that their whiskey-soaked, Blues-filled heritage will be given a modern twist and blended with straightforwardly Metal sound aesthetics. Prolonged bluesy jams morphed into furious guitar gallops and fierce drum lines, thus giving birth to Southern Metal. Its expansion all across the globe was another thing that could have been hardly predictable by the Southern Rock pioneers 40 years ago. Did you ever think about Metal sound as genuinely "southern" as Jack Daniels' taste but conceived in Katowice, Poland? Polish four-piece J.D. Overdrive proves there is such a possibility for the third time, returning with their new album The Kindest Of Deaths.
The Kindest Of Deaths starts with the instrumental intro "Wreckage, Part I" – a heavy, brooding track with a distinct Sabbath-esque flavor to it. It's more than certain the band's diet in their younger days was a solid, healthy dose of classic Metal albums – as proven further on the album, the early Sabbath and the aforementioned Southern Rock/Metal pantheon are not the only ones echoed in their sound. We can talk numerous acts and genres here. Kyuss or Black Label Society have certainly left their mark on J.D. Overdrive's nifty blend of grinding, sinister guitar grooves with Stoner Metal-infused, slow interludes ("Dull Knives And Dead Friends"). However, there's also a distinctively bluesy, Southern-bred vibe to even the heaviest tunes of the Polish act's catalog – the examples of this being the album's title track or "The Greater Good", the latter embroidered with particularly excellent bass solo.
Only occasionally the band indulges themselves in a speed-up ("The Fury In Me") or intertwine rough, piercing screams on the verge of furious growl with more melody-oriented modes of vocal expression ("Wreckage, Part II" which may remind you a bit of Metallica's classic albums). A bit of curio music-wise is another instrumental interlude "Seeds And Stones" that cuts the album in half. It shows drastically different side to the band's music, revealing their Americana-flavored, Southern Rock inspirations stripped down to the acoustic guitar sound – all for the sake of diversity.
With The Kindest Of Deaths, J.D. Overdrive brew their own batch of musical liquor for the third time around and it can be said it's their best brewage so far. Blending their adopted musical "Southern-ness" with generous doses of Stoner and Doom Metal (but still able to surprise a listener with a little acoustic piece halfway through) the Polish four-piece is worth being checked out not only by the avid fans of these genres, but modern Metal fans in general.
Genre: Southern Metal, Stoner Metal
Band:
Michal Stemplowski – guitars and percussion
Wojciech Kaluza – vocals
Marcin Lyzniak – bass guitar
Lukasz Jurewicz – drums and percussion
Track List:
1. Wreckage, Part I
2. Crippled King
3. The Lesser Evil
4. The Fury In Me
5. Dull Knives And Dead Friends
6. Seeds And Stones
7. The Greater Good
8. Demon Days
9. Wreckage, Part II
10. A Painful Reminder
11. The Kindest Of Deaths
Label: Metal Mind Productions
Website: www.jdoverdrive.pl – www.facebook.com/jdoverdrive
Hardrock Haven rating: 7/10