Jeff Beck | Live at Ronnie Scott's
by Steve Patrick
– Senior Columnist —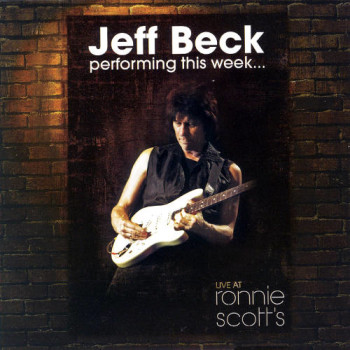 Live albums rarely carry the weight and impact that they once did. Nowadays it seems that a live album is only produced and distributed as a way to tide fans over in between studio recordings. However, every once and a while a live album will come along that is absolutely essential and does a better job of displaying the artist than their actual full-length records. Jeff Beck's Peforming this Week…Live at Ronnie Scott's is this kind of live album.
Live at Ronnie Scott's was originally released following Beck's highly praised set at Eric Clapton's 2007 installment of the Crossroads Guitar Festival. At Crossroads, Beck had debuted the dynamite lineup consisting of himself alongside veteran skinman Vinnie Colaiuta, keyboardist Jason Rebello and bass prodigy Tal Wilkenfeld. So when it was announced that a live CD and DVD from this lineup would be released the following year, longtime Beck fans and new converts were both understandably excited.
The live set did not disappoint. Beck and company took the audience through a dizzying tour of his career throughout the years. From the opening riff of "Beck's Bolero," it was clear that Beck and his band were out to keep the momentum and buzz behind the new lineup rolling. The best part about this performance is that in the DVD/Blu-ray it is clear that each band member is enjoying themselves and that always makes for an enjoyable experience.
Highlights from the show include Wilkenfeld's show-stopping solo in the middle of "Cause We've Ended as Lovers" that has the whole room cheering, the breakneck speed of "Scatterbrain," and Beck's Grammy-winning take on The Beatles' classic "A Day in the Life."
The original 2008 release of the album was only one disc and left out a great deal of what was on the DVD/Blu-ray companions. Beck was joined by several guests during the Ronnie Scott's shows including rockabilly outfit the Big Town Playboys, Joss Stone, Imogen Heap, and fellow ex-Yardbird Eric Clapton. Thankfully the 2015 re-release from Eagle Records is two discs and includes these historic collaborations in an audio presentation.
Any self-respecting guitar fan or lover of Instrumental Rock owes it to themselves to pick up this breathtaking live set that reminded the whole music world that Jeff Beck remains in a class of his own musically. Clapton might have the nickname of God, and it may be blasphemous to say this, but there is no question which ex-Yardbird has the better guitar chops these days.
Genre: Jazz Fusion, Instrumental Rock, Hard Rock
Band lineup:
Jeff Beck – guitar
Vinnie Colaiuta – drums
Jason Rebello – keyboards
Tal Wilkenfeld – bass
Tracklisting:
Disc One:
"Beck's Bolero"
"Eternity's Breath"
"Stratus"
"Cause We've Ended As Lovers"
"Behind The Veil"
"You Never Know"
"Nadia"
"Blast From The East"
"Led Boots"
"Angels (Footsteps)"
"Scatterbrain"
Medley: "Goodbye Pork Pie Hat" / "Brush With The Blues"
"Space Boogie"
"Big Block"
"Day In The Life"
"Where Were You"
Disc Two:
"People Get Ready" (with Joss Stone)
"Blanket" (with Imogen Heap)
"Little Brown Bird" (with Eric Clapton)
"You Need Love" (with Eric Clapton)
"Rollin' And Tumblin'" (with Imogen Heap)
Jeff Beck & The Big Town Playboys Set:
"Race With The Devil"
"Crazy Legs"
"Train Kept A Rollin'"
"My Baby Left Me"
"Matchbox"
"Baby Blue"
"Honky Tonk"
Label: Eagle Records
Hardrock Haven rating: 10/10