Joe Bonamassa | Muddy Wolf at Red Rocks
by Steve Patrick
– Senior Columnist —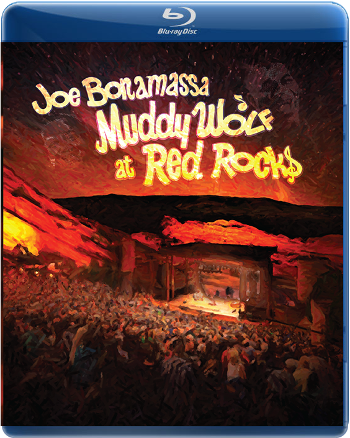 Plenty of artists have graced the stage at Red Rocks in Colorado, but very few of them have offered a set of classic Blues tunes from the catalogs of Muddy Waters and Howlin' Wolf interpreted through one of Modern Blues' greatest talents. Guitar phenome Joe Bonamassa did just that on his latest live release Muddy Wolf at Red Rocks.
Just like with all of his previous live ventures, the attention to preparation and detail in the performance is obvious from the first note. Bonamassa has enlisted a dream band propelled by the legendary Anton Fig on drums, Michael Rhodes on bass, Kirk Fletcher on guitar, and Reese Wynans (Stevie Ray Vaughan & Double Trouble) on piano/organ. A three-piece horn section also punctuates these blues masterpieces in all the right places.
The concert is wisely divided into sections between the Muddy material, Wolf's, and then a handful of Bonamassa's own tunes tacked on at the end. Vintage footage of the two electric blues pioneers is used to segue into Bonamassa's interpretations of the songs. Visually the band looks very sharp in classy suits which echoes back to a time when blues entertainers dressed up to play a gig instead of just throwing on jeans and a t-shirt.
Blues fans watching or listening to Muddy Wolf will be treated to Bona-fied versions of "I Can't Be Satisfied", "You Shook Me," "Spoonful," "Killing Floor," and many other songs made famous by Muddy and Wolf. Bonamassa's guitar work has never sounded better and the band of veterans backing him up never miss a beat. Crystal clear picture and excellent production from longtime Bonamassa collaborator Kevin Shirley both make Muddy Wolf a must-see for any fan of the blues.
The DVD/Blu-ray of the show also includes a bonus feature documentary that follows Bonamassa and Shirley as they drive along Highway 61 in Mississippi in a pilgrimage to the legendary crossroads where Robert Johnson sold his soul. The documentary also shows the duo visiting the Delta Blues Museum and the levees along the Mississippi River that inspired so many blues songs when they famous flooded.
Bonamassa is known for consistently releasing quality material and thankfully Muddy Wolf does nothing to diminish that reputation. Highly recommended.
Genre: Blues, Delta Blues, Blues Rock
Band:
Joe Bonamassa – vocals, guitar
Michael Rhodes – bass
Kirk Fletcher – guitar
Anton Fig – drums
Mike Henderson – harmonica
Reese Wynans – piano, Hammond organ
Lee Thornburg, Ron Dziubla, Nick Lane – horns
Track List:
Mississippi Heartbeat (Intro)
Muddy Waters Talking
Tiger In Your Tank
I Can't Be Satisfied
You Shook Me
Stuff You Gotta Watch
Double Trouble
Real Love
My Home Is On The Delta
All Aboard
Howlin' Wolf Talking
How Many More Years
Shake For Me
Hidden Charms
Spoonful
Killing Floor
Evil (Is Going On)
All Night Boogie (All Night Long)
Hey Baby (New Rising Sun)
Oh Beautiful!
Love Ain't A Love Song
Sloe Gin
Ballad of John Henry
Label: J&R Adventures
Website: www.jbonamassa.com
Hardrock Haven rating: 9/10