Karyn Crisis' Gospel of the Witches | Salem's Wounds
by Justin Gaines
– Senior Columnist —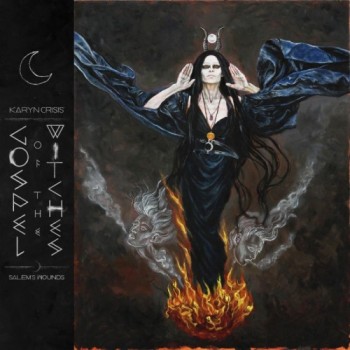 After a lengthy absence, Karyn Crisis – vocalist for Death Metal turned Metalcore band Crisis – has resurfaced with a new project, titled Karyn Crisis' Gospel of the Witches. It's essentially a two-person effort, with Crisis handling vocals and her husband Davide Tiso (of Ephel Duath) on bass, guitars and keys/programming. Charlie Schmid (Tombs) guests on drums, and Immolation's Ross Dolan provides backing vocals throughout the album.
The duo's debut offering is titled Salem's Wounds, and it's an album that doesn't fit easily into the genre lines. There are Progressive Metal elements, Doom Metal elements and a general atmosphere similar to the retro/occult Metal bands with female vocals (Blood Ceremony, Oath and the like), but this is really a quite unique project. The tone and atmosphere of the music very much matches the name of the band and album. It's a very spooky, very witchy album in terms of sound and lyrical content.
For her part, Crisis sounds incredible, and brings a surprising degree of range and vocal styles to this album. Salem's Wounds may prove eye-opening for anyone who has written her off as just a death metal growler. Her growls are still effective though, especially backed by Dolan. Crisis even provided the painting for the cover artwork. Musically, Tiso isn't quite in full avant-garde mode here, but there's definitely a complexity and focus on atmospheric elements that you wouldn't find on, say, a Blood Ceremony album.
This is a welcome return of this underrated and groundbreaking singer, and should more than satisfy the more open-minded fans of both Crisis and Ephel Duath. Salem's Wounds also has crossover appeal to fans of bands like Ghost, Atlantean Kodex, Blood Ceremony, Jess and the Ancient Ones, Moonspell and Enslaved. It's definitely one of the better, and most interesting, debuts 2015 has to offer.
Genre: Progressive Metal, Doom Metal
Lineup:
Karyn Crisis (v)
Davide Tiso (g) (b) (k)
Track Listing:
1. Omphalos
2. The Alchemist
3. Ancient Ways
4. Aradia
5. Mother
6. Father
7. Goddess of Light
8. Howl at the Moon
9. Pillars
10. The Secret
11. Salem's Wounds
12. The Sword + the Stone
13. The Ascent
Label: Century Media
Website: www.facebook.com/gospelofthewitches
Hardrock Haven Rating: 8.75/10