by Deb Rao
– Senior Columnist —
July 11, 2015 at The Brooklyn Bowl in Las Vegas, NV. —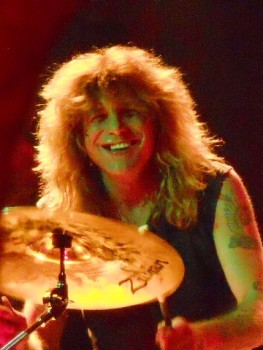 Adler is "Back From The Dead" and invaded Las Vegas on July 11 at The Brooklyn Bowl. This is the first time the band played Las Vegas with this incredible line-up featuring Steven Adler on drums, Jacob Bunton on vocals from Lynam, Lonny Paul on guitar from Lynam and Johnny Martin on bass.
Do you remember the raw energy that surrounded the debut of Guns N' Roses? Well Adler has recaptured that excitement with his current line-up. Singer Jacob Bunton sizzles as a front man. His vocals pack a powerful punch with his Punk/Metal raw edge. He just draws you in. The band performed many original songs from their debut album Back From The Dead. Opening with the title track Adler took no prisoners with is hard rock approach.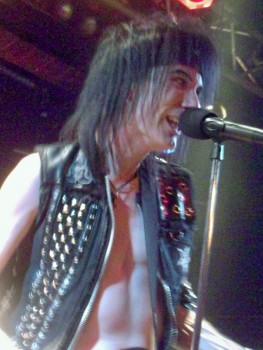 It was great seeing Steven smiling again. He is a powerhouse drummer and proved he is still a force to be reckoned with tonight in Vegas. Steven didn't miss a beat! Other highlights of the show included the song ""Own Worst Enemy" and "The One That You Hate." The irony in "Good To Be Bad" says it all. Adler also threw in some GNR gems including "Mr. Brownstone" and "Rocket Queen."
Guitarist Lonny Paul was excellent at infusing his masterful punk rock riffs. It was so refreshing to hear the original material from Adler. The band has a punk rock edge reminiscent of early Guns N' Roses. Adler ended with the mega Guns N' Roses hit "Welcome To The Jungle." Adler has found the right chemistry with this current line-up. Be sure to check out the band in concert. You won't be disappointed.
Visit the band online: https://www.facebook.com/adlermusic