by Anabel DFlux
– Senior Photojournalist —
July 21, 2015 at Roxy Theatre in Denver, CO. —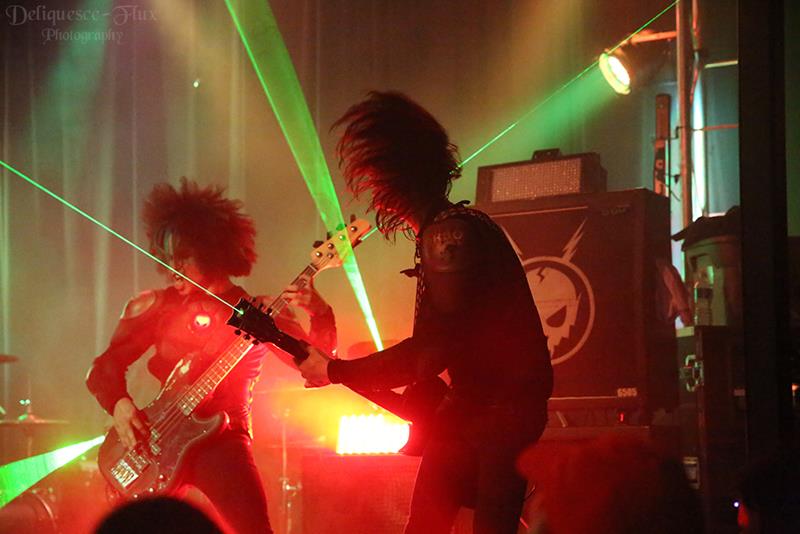 "Laser-wielding-light-show-galore…" is probably the best way to accurately describe a Powerman 5000 show. This infamous robot inspired band found their way to the city of Denver last week, lighting up the venue in a dazzling spectacle of lasers. This band, seemingly, loves transporting audience members into a different dimension.
Rocking custom Powerman stage armor and instruments, each musician brings their own unique energy to the performance. The show is highly theatrical and a melting pot of fun, which always encourages the audience to engage with the performers and jump to the beats. The stage lighting was a fantastic addition as well, illuminating the theater with vibrant colors. Although the venue was fairly small, this intimate setting added to the concert, allowing the crowd to really involve themselves with the music.
Vocalist Spider is easily one of the most brilliant front men of our time, his enthusiasm and excitement is very evident, and he has the uncanny ability to get a whole room going. Guitarists Richard Jazmin and Nick Quijano kept that melody going with their skilled playing, while Murv Douglas enthused the crowd with his quirky bass playing antics. Drummer DJ Rattan absolutely killed it on his percussions, with laser arm gear to match!
The set list ran through fan favorites, concluding with one of the best known PM5K songs "When Worlds Collide."
Members:
Spider One – Vocals
Richard Jazmin – Guitar
Nick Quijano – Guitar
Murv Douglas – Bass
Dj Rattan – Drums
LIVE! | Powerman 5000 Concert Photo Gallery
Connect with Powerman 5000: http://www.Powerman5000.com/ – www.Facebook.com/OfficialPowerman5000