by Justin Gaines
– Senior Columnist —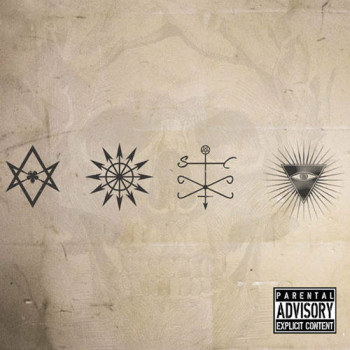 Finnish melodic/glam/sleaze/party (take your pick) rockers Santa Cruz are back with a new album, their third overall. It's a self-titled release, which typically means a band is: a) redefining their sound or b) going back to their roots after an earlier departure. In Santa Cruz's case, they're redefining their sound … but not too drastically.
Santa Cruz has always been about '80s-inspired, high-octane party rock that's extremely catchy and melodic, and that much hasn't changed. They band just has a more modern rock edge on this one, perhaps in an attempt to get some attention outside of Europe. You can still hear the Crashdiet and Hardcore Superstar influence, but there's a brasher, in your face approach that's more like the rock bands you hear on American radio (and at your local Hot Topic). That, and a hefty dose of profanity. Enough to make one suspect that the symbols on the front cover stand for a very particular expletive.
Santa Cruz is rude, crude and insanely fun to listen to. The hooks are incredibly catchy and the vocals, especially when the whole band is shouting along, are beyond infectious. Aside from the closing ballad "Can You Feel the Rain," this whole album is a non-stop rock n' roll party. "My Remedy," "Bye Bye Babylon" and "Vagabonds (Sing With Me)" are just a few examples of this album's energy and attitude.
If you've been a Santa Crus fan from the start, this more modern vibe may not be what you want to hear. The band is certainly moving away from the more polished Reckless Love kind of sound. Still, this is really fun stuff and if the reaction from the American audiences on the band's recent tour with Amaranthe and I Prevail is any indication, the new direction is winning them some new fans. If you thought the days of brash, young, party rock bands ended in 1992, it's time to discover Santa Cruz!
Genre: Melodic Rock, Hard Rock
Lineup:
Archie Cruz (v) (g)
Johnny Cruz (g) (v) (k)
Middy (b) (v)
Taz (d) (v)
Track Listing:
1. Bona Fide Hero
2. Velvet Rope
3. My Remedy
4. (66)6 Feet Under
5. Bye Bye Babylon
6. We Are the Ones to Fall
7. Wasted n' Wounded
8. Let Them Burn
9. Vagabonds (Sing With Me)
10. Can You Feel the Rain
Label: Spinefarm Records
Website: www.facebook.com/santacruzband
Hardrock Haven Rating: 7.5/10