Satan's Host | Pre-Dating God, Part 1
by Justin Gaines
– Senior Columnist —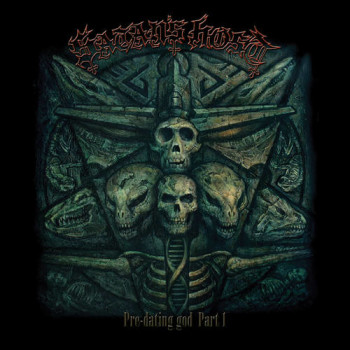 Long-running cult U.S. heavy metal band Satan's Host returned this year with not one but two new studio albums, titled Pre-Dating God, Parts 1 and 2. The Colorado-based band has been revitalized since original vocalist Leviathan Thisiren (a.k.a. Harry Conklin of Jag Panzer fame) has rejoined, and with this double release they've put out their most ambitious work to date.
If you're familiar with the previous two Satan's Host albums (2011's By the Hands of the Devil and 2013's Virgin Sails), you know more or less what to expect from the Pre-Dating God albums. The band's sound remains an intense mix of Traditional, Power and Thrash Metal with machine-gun rhythms, blistering riffs and of course Conklin's soaring, screaming vocal range. This time around there's simply a larger concept (a horror/fantasy story that's as anti-Christian as any of the band's previous works) to the lyrics.
Pre-Dating God Part 1 opens this musical saga, and it does so on a very powerful note with the monster "Hell's Disciples." Shortly after, "Valley of Blood" and the title track get to the heart of this album's sound (and that of the band itself). The songs after that run together a bit, but the album ends on a very enjoyable note with an inspired cover of the Grim Reaper classic "See You in Hell." The musicianship is strong throughout the album, and Conklin sounds as powerful as ever.
The flaw with both of these Pre-Dating God albums is that you can point to one or two songs that feel like filler, and once you do that you're left with what really could have been a single album full of "A" material instead of two separate shorter releases. Still, you have to acknowledge the band's ambition and creativity.
Even though two separate releases might not have been absolutely necessary, there is a lot of strong material on these two albums. Fans of the previous two Satan's Host albums will find a lot to like here, and the Pre-Dating God albums should also appeal to fans of Accept, Judas Priest, Attacker, and of course Jag Panzer. If hard-hitting old school Heavy Metal is your thing (and you can handle the lyrical content), Satan's Host is a band that you'll want to hear.
Genre: Heavy Metal, Traditional Metal
Lineup:
Harry Conklin (v)
Patrick Elkins (g) (b)
Anthony Lopez (d)
Track Listing:
1. Hell's Disciples
2. Embers of Will
3. Valley of Blood
4. Pre-Dating God
5. Greed, Lust, Hate, War
6. After the End
7. See You In Hell
Label: Moribund
Website: www.satanshost.com
Hardrock Haven Rating: 8/10