Shotgun Messiah | Second Coming
by Justin Gaines
– Senior Columnist —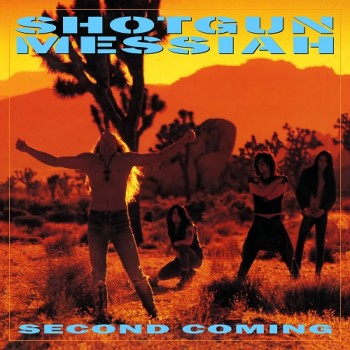 Originally released in 1991, Second Coming is the – you guessed it – second album from Swedish glam metal band Shotgun Messiah. The band, which was more or less Sweden's answer to the Hollywood hair metal scene, made a major splash with their self-titled 1989 debut, but the departure of frontman Zinny Zan forced them to change things up a bit. Tim Skold handed bass duties off to newcomer Bobby Lycon and took over on vocals.
Lineup changes aside, Shotgun Messiah's hard hitting (and hard partying) sound was still very much in place on Second Coming. They come on strong here, like a more metallic L.A. Guns. Beneath the crunching guitars and sleazy twang these songs are still very melodic, though they're a far cry from the band's more polished countrymen in Europe and Treat. Skold sounds great on vocals, and is a bit less abrasive than Zan was. He nails the sleaze rock sound perfectly, and has the kind of charisma to make songs like "Sexdrugsrockn'roll" and "Heartbreak Blvd." impossible to resist. The band even manages to make the obligatory power ballad something special with "Living Without You." The surprise favorite on Second Coming has to be the band's raucous cover of the New York Dolls hit "Babylon," which sounds like it was written just for Shotgun Messiah.
Shotgun Messiah followed Second Coming in 1992 with the I Want More EP before changing directions dramatically with the industrial rock Violent New Breed in 1993. The grunge takeover probably would have put an end to the band's party rocking days anyway.
Second Coming remains a totally rocking, totally fun album from a band that really should have had a higher profile at the time. Shotgun Messiah showed the world that Sweden's rock scene had more to offer than just Europe, and paved the way for sleaze rock revivalists like Hardcore Superstar and Crashdiet. If you're a die-hard fan of the '80s Hard Rock/Glam Metal/Hair Metal sound, this is an album you'll want to get your hands on, especially now that it has been reissued.
Edition Notes: Divebomb Records reissued Second Coming (as well as the Shotgun Messiah debut) earlier this year. Their reissue features newly remastered audio and a booklet that's loaded with band history, lyrics and vintage photos and press material. There are no bonus tracks, but just having this long out of print album back in fans' hands – and sounding better than ever – is reason to celebrate. As usual, it's limited to 1000 copies and is not available digitally.
Genre: Hard Rock, Glam Metal
Lineup:
Bobby Lycon (b)
Stixx (d)
Harry Cody (g)
Tim Skold (v)
Track Listing:
1. Sexdrugsrockn'roll
2. Red Hot
3. Nobody's Home
4. Living Without You
5. Heartbreak Blvd.
6. I Want More
7. Trouble
8. Ride the Storm
9. I Wanna Know
10. Babylon
11. Free
12. You and Me
13. Can't Fool Me
Label: Divebomb
Website:
Hardrock Haven Rating: 8.5/10